Thank you for your interest in joining our event! Although the event has passed, we are happy to provide you a recording of the event. Watch it via this link here:​
About the Event
The fireside chat takes place online via Zoom on 10 May 2022 at 5 pm Hong Kong Time/ Malaysian Standard Time.
Non-fungible tokens are cryptographic assets which are created on distributed databases called "blockchains" that are also used for cryptocurrency systems such as Bitcoin. Unlike fungible assets like cryptocurrencies, however, NFTs have unique identification codes and metadata that allows each token to be unique and impossible to replicate. Unlike mainstream conception that all NFTs are digital, they can also be used to represent real items including artwork and real estate.
The first ever NFT, Quantum, was created by Kevin McCoy back in 2014 however it was not until 2021 that NFTs really began to uptrend due to the Bitcoin and Ethereum (ETH) bull run as well as the uptake of NFTs by famous personalities all around the world. This consequently led to a 38,000% year-over-year increase in NFT sales and increased the value of the NFT marketplace to almost US$41 billion; almost at par with the US$50 billion procured by the conventional art and antique sales of 2020. This highlights the strong impact NFTs have had on the realm of art as many artists have begun transforming their traditional artworks to NFTs, creating a bustling, vibrant online community on platforms including OpenSea and Blockparty where artists showcase their individual works and also collaborate with other artists for collector series NFTs. While many NFTs are sold for six-figure prices, the average NFT price is calculated to be US$150 allowing individuals from all financial backgrounds to partake in the trade.
Commonwealth nations are amongst the biggest adopters of NFTs. In Nigeria, 13.7% of the population, predominantly millennials, own NFTs and this number is expected to rise by 21.7%, the biggest growth ever to be recorded, to 35.3%. Malaysia is amongst the most prominent Asian markets for NFTs, currently ranking as the 3rd largest in terms of NFT owners, pegged at a current 24$ of the population. Malaysia is also the home country of one of the pioneer NFT artist, Pak, whose NFT "The Merge" is the highest valued piece in the world which was sold for US$91.8 million and involved the contributions of 30,000 collectors. As 2022 is set to be a year of further growth of the NFT market, it is pertinent for the world to gain a better understanding of the unprecedented new form of monetisation and the technology behind it.
Join our webinar as we invite a distinguished NFT artist from Malaysia to share with us her journey in discovering the world of NFTs, and how her shift from the traditional art community to the online platform community has changed her personal life and professional career.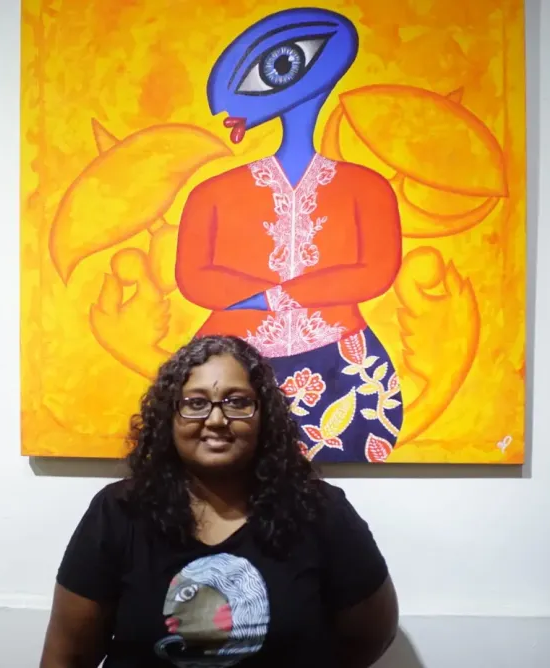 Visithra Manikam; NFT Artist and creator of Visithra
Visithra Manikam is a self-taught Malaysian woman visual artist from Malaysia. She paints both expressionism and pop art/surrealism in the modern Indian art style and creates sculptures.
She is a verified NFT artist in Opensea with 102 ETH volume traded for her collection – Visithra.  Her art is now collected globally with over 220 collectors including The Medici Collection owned by Snoop Dogg. Her art focuses on human behaviour and experiences which she explores through psychology, eastern philosophy and symbolism. She also focuses on subjects such as racism, colourism, feminism and social issues. Prior to NFTs, her art had been exhibited in Manila, Philippines, 2018; Bangla Biennale, West Bengal, India (2019); Yogyakarta and Jakarta, Indonesia; Osaka, Japan; in Udaipur, Mumbai, India and in South Korea.
She had her first NFT exhibition in New York in September 2021, followed by 2 NFT exhibitions in Los Angeles, Mumbai and soon in Liverpool, UK. She is a speaker at NFT NYC 2022.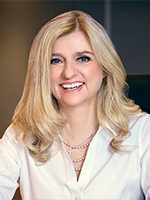 Julia Charlton; Chairman, Commonwealth Chamber of Commerce
Julia is the founding and managing partner of Charltons, an award winning Hong Kong corporate finance Hong Kong law firm. Julia is admitted as a solicitor in Hong Kong, England and Wales and the BVI. She practises in the field of corporate finance, including M&A, private equity, securities, virtual assets and funds.
Julia is also a member of the Commonwealth Enterprise & Investment Council (CWEIC)'s Global Advisory Council and several Hong Kong boards and committees, most notably The Takeovers and Mergers Panel and the Takeovers Appeals Committee of the Hong Kong Securities and Futures Commission and the Listing Review Committee of the Hong Kong Stock Exchange.