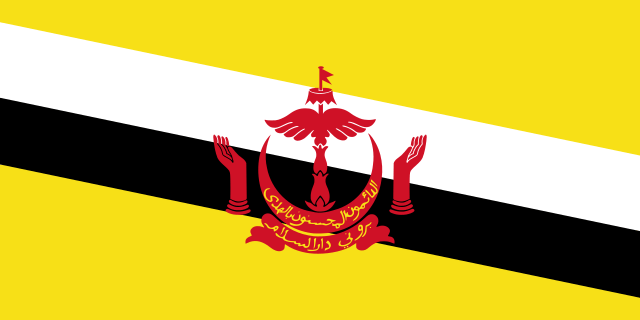 Capital city: Bandar Seri Begawan
Population: 441,532 (2021)
Land area: 5,765 km²
Official language: Malay
Legal system: Common law, with a parallel Syariah law system for Muslims
Time zone: GMT+8
Currency: Brunei Dollar (BND)
GDP: 13.47 billion USD (2019)
Main industries: Petroleum, petroleum refining, liquefied natural gas, construction, agriculture, aquaculture, transportation
Principal exports: Oil and natural gas
Brunei, an independent Islamic sultanate on the northern coast of the island of Borneo in Southeast Asia, is bounded to the north by the South China Sea and on all other sides by the East Malaysian state of Sarawak, has divided the state into two disconnected segments of unequal size. The western segment is larger and contains the capital city of Bandar Seri Begawan.
Among its population, nearly two-thirds is classified officially as Malay. Chinese make up about one-tenth of the population. About two-thirds of Brunei's population is found in and around Bandar Seri Begawan, the capital and largest urban centre. Islam is the predominant religion in Brunei. The country achieved independence in 1984, after having been a British protectorate since 1888. Brunei, which is an absolute monarchy, has one of the world's highest per-capita standards of living, thanks to its bountiful oil and gas reserves.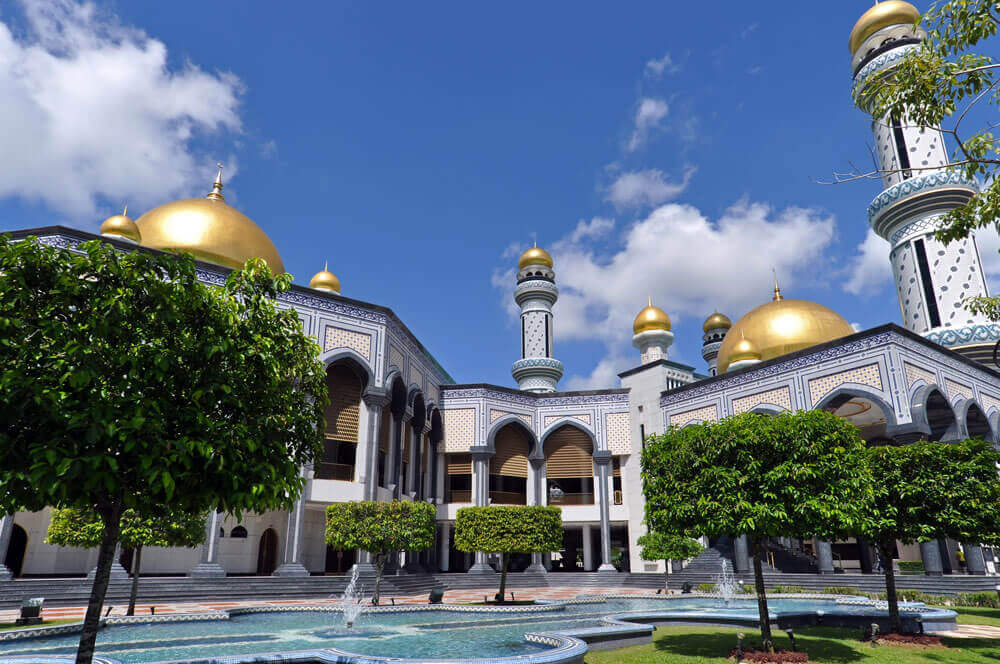 Key dates in Brunei's history:
15th century – Islamic sultanate of Brunei nominally in control of Borneo, including Sabah and Sarawak state of Malaysia, and some parts of the Sulu islands in the Philippines.
1888 – Brunei becomes a British protectorate.
1963 – Brunei chooses to remain a British dependency rather than join the Federation of Malaysia.
1967 – Hassanal Bolkiah becomes sultan following the abdication of his father, Sultan Omar.
1984 – Brunei becomes independent.
2014 – Brunei becomes the first East Asian country to adopt Islamic sharia law despite widespread international condemnation.
Economy
Brunei's economy is almost totally dependent on the exploitation of its vast reserves of petroleum and natural gas. Although oil and gas revenues have allowed the state to give its citizens one of the highest per capita incomes in Asia, they also have made the country dependent on a single commodity that is subject to market fluctuations. In addition, Brunei must rely on imports for nearly all its manufactured goods and most of its food. In an effort to ensure the country's economic stability, the government has since the late 20th century striven to diversify the economy by developing other sectors, such as agriculture, fisheries, tourism, and financial services, with limited success. A slump in oil prices has affected the economy and roll-out of Covid-19 vaccines has been slow.
Government
In 1959 Brunei became a self-governing state and adopted a constitution, although the British retained jurisdiction over foreign policy, defense, and internal security. Limited attempts at elected representative government under this constitution were abandoned by 1970. After Brunei attained full independence in 1984, an Islamic sultanate was established, and the constitution underwent significant amendment.
Ultimate authority rests with the sultan, who is both head of state and head of government. As prime minister, he presides over a Council of Ministers (cabinet) and is advised by several other councils (Religious, Privy, Succession, and Legislative); the members of these bodies are appointed by the sultan. In 2004, the sultan approved a number of amendments to the constitution. Although a provision for a partially elected Legislative Council was among the amendments, elections have not been held.
History
Growing significance and journey toward independence
Brunei became a British protectorate in 1888, and in 1906 administration was vested in a British resident, whose advice the sultan was bound to accept. Despite the presence of a foreign administration, Brunei's significance began to revive with the start of petroleum production in 1929. In 1941–45, during World War II, Brunei was occupied by the Japanese. The British returned after the war, and negotiations began for the eventual independence of Brunei.
The first step in this process occurred in 1959, when self-government was achieved and the British resident was replaced by a high commissioner. Britain remained responsible for defence and foreign policy. Brunei adopted a written constitution, and in 1962 a partly elected Legislative Council with limited authority was installed. The conversion to a representative government was interrupted later that year by a revolt, which was suppressed with the help of British forces; the sultan then called a state of emergency and suspended most provisions of the constitution. New elections were held in 1965, but appointed members still retained their majority in the council.
In 1967, Sultan Omar Ali Saifuddien abdicated in favour of his eldest son, Hassanal Bolkiah Muʿizzaddin Waddaulah. Brunei's political life was stable throughout the 1970s in large part because of its flourishing economy and its position as one of the world's wealthiest (on a per capita basis) oil producers. In 1979 the United Kingdom and Brunei signed a treaty whereby Brunei would become fully independent in 1984.
Sultanate
Brunei duly gained independence on January 1, 1984, and an Islamic sultanate was proclaimed. The Legislative Council was suspended, and a ministerial form of government was introduced. The sultan became prime minister.
In 1990, the sultan encouraged Bruneians to adopt Malay Islamic Monarchy to call for more rigid adherence to traditional Islamic principles, which was viewed with anxiety by non-Muslims. Nevertheless, the sultanate still experienced both political and economic stability and its citizens continued to enjoy a very high standard of living while paying no income tax. However, the economy's heavy reliance on petroleum and natural gas, led the government to pursue economic diversification.
In the mid-1980s, two political parties, the Brunei National Democratic Party and the Brunei National United Party, were legalized, but membership restrictions were imposed (e.g., government employees were excluded) and their activities impeded by the government. After only a few years, both parties were banned. The Brunei National United Party was allowed to operate again beginning in 1995, and in the early 21st century it was joined by two new parties, the People's Awareness Party and the National Development Party. In 2004 the sultan reconvened the Legislative Council to discuss constitutional amendments. Although provision for an elected component of the Legislative Council was among the approved amendments, the sultan reformed the council in 2005 with an entirely appointed membership. Meanwhile, two of the three political parties were deregistered, leaving the National Development Party as the sole legal party by 2007.
Stricter implementation of Islamic law
Brunei's movement toward stricter Islamic practices initially included measures such as banning the sale of alcoholic beverages and requiring that Muslim children receive religious instruction. Courts for Islamic law also functioned to help Muslims settle personal matters such as marriage disputes. The sultan had long wanted to expand Shariah law to include criminal offences by Muslims, which includes three phases covering crimes with lesser punishments, crimes penalized by corporal punishments and crimes with severe punishments respectively. Proposals for stricter implementation of Shariah law were withdrawn following international condemnation in 2019.
Foreign relations
At independence in 1984, Brunei's relations with neighbouring Malaysia were strained over boundary and territorial disputes in Sarawak. In 2009 an agreement was reached by which Brunei would drop its claim on Limbang and Malaysia would forgo its claim to oil-rich areas in the South China Sea that the two countries had contested. However, the two countries would jointly exploit any reserves found there.
Sources:
https://www.bbc.com/news/world-asia-pacific-12990058
https://thecommonwealth.org/our-member-countries/brunei-darussalam
https://www.britannica.com/place/Brunei/History