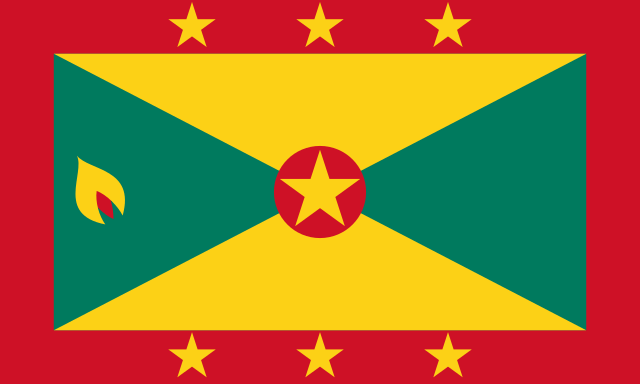 Capital city: St. George's
Population: 113,021 (2021)
Land area: 348.5 km²
Official language: English
Legal system: English common law
Time zone: GMT-4
Currency: Eastern Caribbean dollar
GDP: 1.19 USD Billion (2021 est.)
Main industries: Nutmeg, bananas, cocoa, fruit and vegetables, clothing, mace
Principal exports: Non-fillet Fresh Fish, nutmeg, mace and cardamons, cocoa beans, other fruits, and wheat flours
An island located in the Caribbean Sea, Grenada is the main yachting and sailing harbour in the West Indies and sits approximately 100 miles north of Venezuela. It is known as the 'Spice Island', as it is one of the largest producers of nutmeg worldwide. The island offers a vibrant, yet diverse landscape due to its tropical climate, ranging from mountainous regions and rainforests to beaches. Such a setting brings a great deal of tourism to the island.
Grenada is a densely populated nation of around 113,000 people (as at July 2020), one third of which inhabit the capital city, St George's. The island has a high life expectancy, and has a relatively equal age distribution throughout its population. The island is home to a majority of people of African descent alongside a smaller number of East Indian, French and British descendants. The population is predominantly composed of Christian faiths.
 Grenada's GDP reached US$1.8 billion in 2018 with a number of sectors making notable contributions. Agriculture was previously the dominant sector, however the services sector has grown to become a leading contributor. The agriculture sector does however remain a key pillar of the rural economy and the island nation boasts staggering production of spices, including nutmeg, ginger, cinnamon and mace. In addition, tropical fruits and coconut products generate a great deal of revenue from exports.
Grenada's tourism sector is also particularly important to the economy, contributing around 56 percent to GDP in 2018 and sector growth was strong in 2017/18, led by FDI-financed tourism-related projects, with activity across the sector expanding by 4 – 5 percent.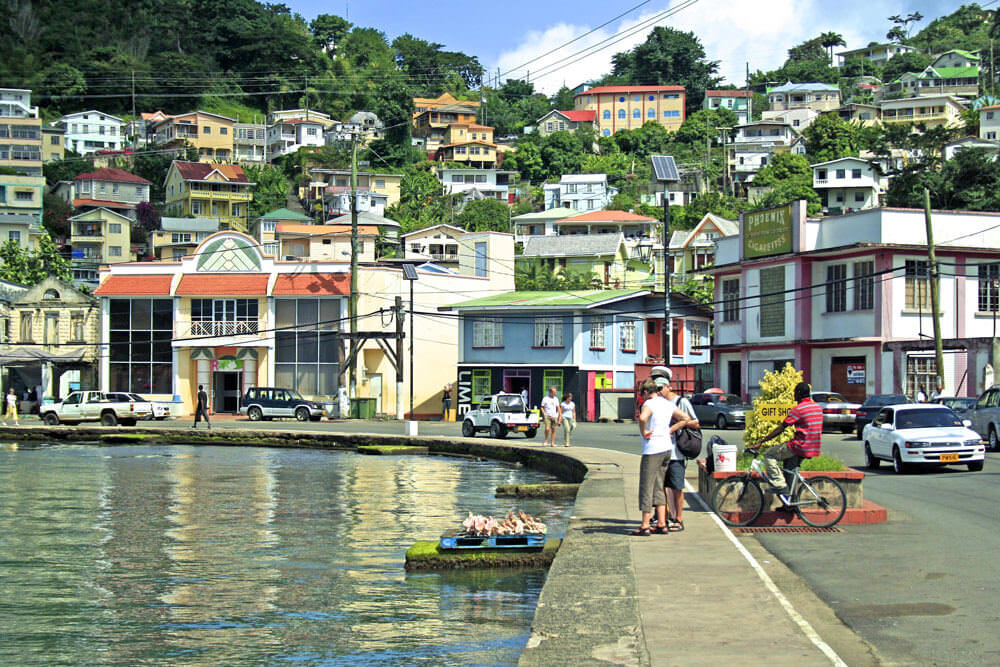 Grenada's exports of goods totalled US$36.5 million in 2018, primarily composing nutmeg, mace and cardamons (24.7 percent of all goods exported) and non-fillet fresh fish (24.1 percent). In fact, Grenada is the second largest producer of nutmeg globally and is responsible for over one fifth of the nutmeg production worldwide. A majority of Grenadian exports are to the US (41.4 percent, mainly comprising yellowfin tuna, fruit and spices) with European nations and Caribbean neighbours also key export partners.
Goods imported by Grenada are fairly diverse, totalling US$200 million in 2018. The main imports include cars, which account for 5.86 percent of all goods imported and poultry meat (4.86 percent). Grenada's main import partners in 2018 were the US (from which 36.2 percent of all goods were imported), the UK (8.9 percent) and Brazil (5.7 percent).
Meanwhile, trade in services as a percent of GDP in 2018 was 72.7 percent, with service exports dominated by travel (90.9 percent). The primary category of service imports was other business services (37.6 percent) and transportation (24.3 percent).
Grenada's judicial system forms part of the eastern Caribbean court system, which follows English common law. St. George's hosts Grenada's Supreme Court and Courts of Appeal; however, Grenada's judiciary has garnered a reputation for being inefficient, through elongating civil procedures and lacking judicial staff. The country is one of eight countries who agreed to establish the Caribbean Court of Justice to hear cases formerly appealed to the United Kingdom's Privy Council.
 Few restrictions govern Grenada's foreign investment regulations. In fact, overseas investors are encouraged to bring their business to the island. In 2019, The Grenadian government pledged to develop an ecologically sustainable fisheries sector in order to support long-term exportation of yellowfin tuna. Foreign investment in blue growth and fisheries infrastructure in conjunction with government funding would help to make this a realisable project.
The manufacturing sector has grown significantly in recent years thanks to government incentives. Although this has kick-started the establishment of new manufacturers, these companies must export from an early stage in order to compete, due to the small local economy. Therefore, smaller manufacturing companies would benefit from investment in this sector.
Electricity generation on the island could be provided for through a more diverse range of sources. The island offers untapped natural resources, of which investors could take advantage in order to generate hydroelectricity as a more sustainable alternative.
Sources
https://www.britannica.com/place/Grenada
https://thecommonwealth.org/our-member-countries/grenada
https://www.doingbusiness.org/en/data/exploreeconomies/grenada
http://www.commonwealthgovernance.org/countries/americas/grenada/judicial-system/
https://www.nowgrenada.com/2018/07/seeking-justice-in-grenada-part-1-grenadas-court-judicial-system-in-a-state-of-collapse/
https://www.nationsencyclopedia.com/Americas/Grenada-JUDICIAL-SYSTEM.html
https://www.grenadaconsulatemiami.com/why-grenada/
https://marfisheco.com/wp-content/uploads/2019/04/Techno-economic-performance-report-Grenada.pdf
https://www.gov.gd/index.php/economy
https://knoema.com/atlas/Grenada/topics/Tourism/Travel-and-Tourism-Total-Contribution-to-GDP/Contribution-of-travel-and-tourism-to-GDP-percent-of-GDP
https://www.forbes.com/sites/daphneewingchow/2020/02/23/nutmeg-grenadas-black-gold-is-on-the-cusp-of-resurgence/#7c8a533d3f28
https://www.trademap.org/tradestat/Service_SelCountry_TS.aspx?nvpm=1%7c308%7c%7c%7c%7c%7c%7cS00%7c1%7c3%7c1%7c1%7c2%7c1%7c5%7c1%7c1%7c1