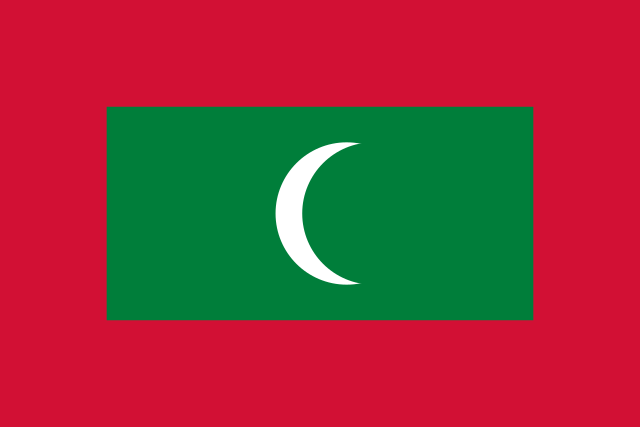 Capital city: Male
Population: 543,617 (2021)
Land area: 300 km²
Official language: Dhivehi
Legal system: Islamic Law and English common law
Time zone: GMT+5
Currency: Maldivian rufiyaa (‎MVR‎)‎
GDP: 5.80 USD Billion (2021 est.)
Main industries: Fish processing, tourism, shipping, boat building, coconut processing, garments, woven mats, rope, handicrafts, sand mining
Principal exports: Fish
The Maldives is a cluster of coral atolls and sandbank islands located in the Indian Ocean.  It is made up of a chain of approximately 1,200 islands in total, but only 188 are inhabited. The Maldives is renowned for its stunning beaches, pristine turquoise waters and unique underwater marine life.
Demographic
The population was recorded to be 540,544 by the end of 2020. Over 90% of the population are Maldivian, who are historically of Sri Lankan or Indian descent. Just under 40% of Maldivian citizens live in urban areas, either in or near the country's capital, Male. The remainder of the population live rurally on small islands, with no more than 1,000 inhabitants to an island and the literacy rate has reached almost 100%. The majority of the Maldives' residents are Muslim.
Dhivehi is the official language in Maldives. English is also recognised as the second main language. Initially, Dhivehi was used as the medium of teaching in schools, but subsequently the need to promote higher education led to the conversion of syllabus in English. English is widely spoken by the locals of Maldives.
History
In 1968, a new Republic was inaugurated in Malawi. The previous ruling body, the Sultanate, was abolished, and the Maldives took membership in the United Nations. Later, in 1982 it became a member of the Commonwealth of Nations. March 29, 1976, the day the last British troops left the Maldives, is celebrated as Maldives Independence Day. In 1988, an internal coup attempt aided by Tamil mercenaries was thwarted with the help of the Indian Armed forces.
Key Dates
1965 – Full independence as a sultanate outside Commonwealth.
1968 – The sultan is dethroned after referendum; republic reinstated with Ibrahim Nasir as president.
1978 – Nasir retires, replaced by Maumoon Abdul Gayoom.
1982 – Rejoins Commonwealth.
1988 – Coup attempt by Sri Lankan mercenaries fails.
1999 – Parliamentary elections take place in November, with more than 120 independent candidates contesting 40 seats
2003 – Mr Gayoom re-elected for unprecedented sixth term in presidential referendum in October, winning more than 90% of the vote.
2004 – In August, state of emergency imposed after a pro-democracy demonstration turns violent. Almost 100 people are jailed
2007– In August, voters in a referendum support President Gayoom's proposal for a presidential system of government.
2008 January – President Gayoom survives an assassination attempt after 15-year-old boy scout Mohamed Jaisham protects him from the would-be assassin.
2008 August – President Gayoom ratifies new constitution that paves the way for first multi-party presidential elections.
2008 – Opposition leader Mohamed Nasheed defeats President Gayoom in second round of voting, inaugurated as president in November.
2009 March – President Nasheed says the Maldives will become carbon-neutral within a decade by switching completely to renewable energy sources. In the following month he also announces that the government will deregulate the state-controlled media and ensure media freedom and competition.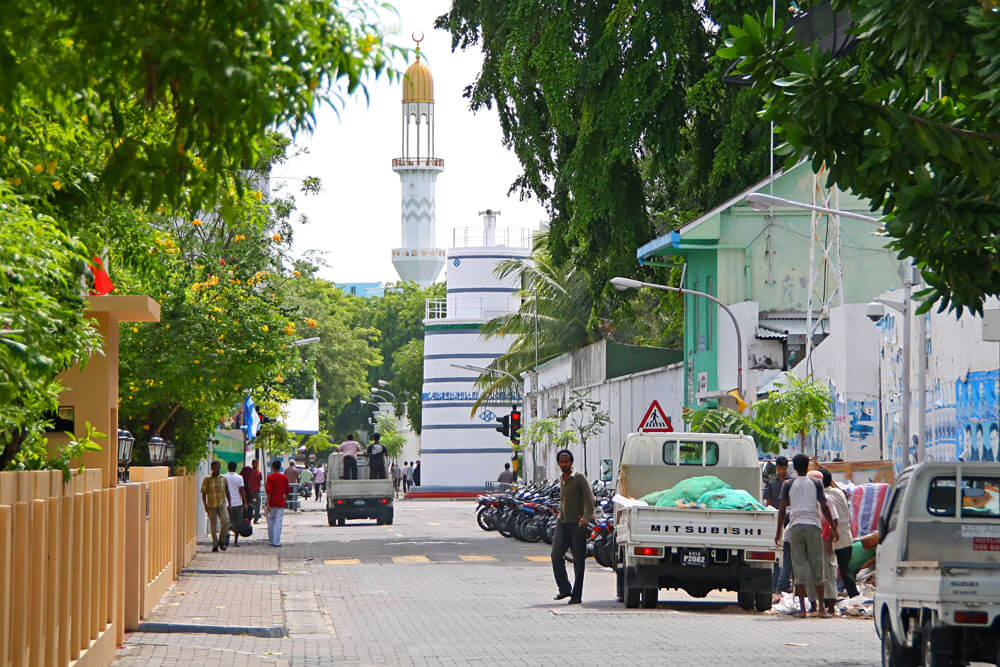 Legal System and Government
Maldives is a presidential republic wherein the president is elected by popular vote. a cabinet is appointed by the president and approved by parliament.
The Maldivian judiciary principally follows Islamic law, to which civil law is subordinate. Maldivian judges must be Muslim. In the capital, they preside over specialist courts according to what legal issue is to be addressed. The High Court can hear appeals from these inferior courts; however, the President may affirm or overturn High Court judgments. On the islands, there is typically one court that deals with all matters and is presided by traditional legal practitioners. Should there be an appeal, the case is heard in either a specialised court in Male or in the High Court.
Economy
The Maldivian islands have a developing economy, which is predominantly built upon tourism, fishing and boatbuilding. Industries consist of handmade products, using resources available to manufacturers, such as coconut husk fibre. Due to the scarcity of arable land for harvesting crops, most foodstuffs and commodities must be imported.
Tuna is a staple export for the Maldives. Thailand and a few European states are the principal importers of Maldivian products. The country relies heavily on import tax and customs duties for state revenue. Customs duties are applied using the Harmonised System Codes. The average tariff rate has fluctuated between 11 and 12% in recent years.
Trade
The GDP in 2020 was estimated to be US$4.03 billion. Current data on 2019 statistics show that Maldives gained US$253 million via exports, mainly from fish fillets (25.5%), non-fillet frozen fish (23.7%), non-fillet fresh fish (16.1%) and processed fish (14.1%). The main importers were Thailand (23.5%), the United States (12.6%), China (12.0%) and France (11.1%). Imports amounted to US$2.5 billion mainly for refined petroleum (19%), fruits (2.61%), "other" furniture (2.35%), broadcasting equipment (2.23%), and sawn wood (1.6%). Main supplier countries were the UAE (24%), China (15.8%), Singapore (14%) and India (10.5%).
Investment Opportunities
Although fishing accounts for a large proportion of the country's GDP, fishing methods in the Maldives are outdated and could benefit from investment. Provision of mechanical fishing and boating equipment would bolster the fishing industry and contribute to making it more efficient.
Tourism in the Maldives has increased substantially in the last few years. Luxury hotel resorts are becoming more sought-after, especially during the winter months, when the climate is warm and dry.
Sources
https://www.britannica.com/place/Maldives
https://www.doingbusiness.org/en/data/exploreeconomies/maldives
https://www.nordeatrade.com/en/explore-new-market/maldives/trade-profile
https://www.worldbank.org/en/country/maldives/overview
https://www.macrotrends.net/countries/MDV/maldives/tariff-rates
https://www.nationsencyclopedia.com/Asia-and-Oceania/Maldives-JUDICIAL-SYSTEM.html
http://maldives.tourism-srilanka.com/travel-tips/language.html
http://country.eiu.com/article.aspx?articleid=1657547549&Country=Maldives&topic=Summary&subtopic=Political+structure
https://www.bbc.com/news/world-south-asia-12653969
https://www.worldometers.info/world-population/maldives-population/
https://tradingeconomics.com/maldives
https://oec.world/en/profile/country/mdv