Capital city: Gaborone
Population: 2,393,897 (2021)
Land area: 581,730 km²
Official languages: English, Setswana
Legal system: A dual legal system based on Roman Dutch Law and Customary Law
Time zone: GMT+2
Currency: Botswana pula
GDP: 18.73 billion USD (2021)
Main industries: Diamonds, copper, nickel, salt, soda ash, potash, coal, iron ore, silver; beef processing; textiles
Principal exports: Diamonds
Botswana is a landlocked country in Southern Africa that borders the countries of Namibia, South Africa, Zimbabwe, and Zambia. The territory is roughly triangular—with its eastern side protruding into a sharp point. Its eastern and southern borders are marked by river courses and an old wagon road; its western borders are lines of longitude and latitude through the Kalahari, and its northern borders combine straight lines with a river course. The capital of Botswana is Gaborone. Within the Botswana's borders is a rich variety of wildlife, including many species of mammals, birds, reptiles, amphibians, and fish.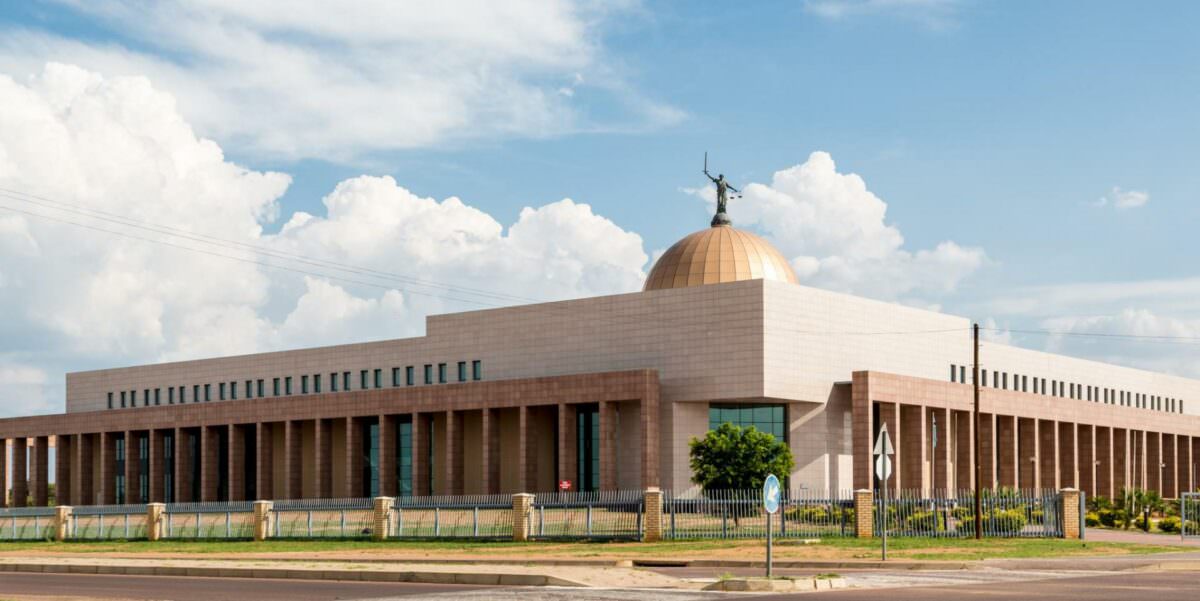 Demographics
The total land area is 566,730 km² and the population of Botswana, as of 2021, stands at 2,400,136, ranking 27 in the Commonwealth countries population ranking. Of this population an estimated 73% live in urban areas. Life expectancy in Botswana is 69.9 and the median age is 24. The dominant ethnic identity in Botswana is Tswana, comprising two-thirds of the population in the 21st century. About one-half of the country's population is Christian.
English is the official language of Botswana, and 2.8 of the population speak English as their first language, whilst majority of the population possess a working knowledge of it due its use in business, administration, and education. Tswana is considered the lingua franca in Botswana, with 77% of the population using it as their first language, although mostly in spoken form due to the use of written English in business and formal affairs.
History
The supporters of Seretse Khama began to organize political movements from 1952, and there was a nationalist spirit even among older "tribal" leaders. Ngwato "tribal" negotiations for the start of copper mining led to an agreement in 1959. A legislative council was eventually set up in 1961 after limited national elections. The Bechuanaland People's Party was founded in 1960, and the Bechuanaland Democratic Party was founded in 1962.
After long resistance to constitutional advance before economic development could pay for it, the British began to push political change in 1964. A new administrative capital was rapidly built at Gaborone. Bechuanaland became self-governing in 1965, under an elected BDP government with Seretse Khama as prime minister. In 1966 the country became the Republic of Botswana, with Seretse Khama as its first president.
For its first five years of political independence, Botswana remained financially dependent on Britain to cover the full cost of administration and development. The planning and execution of economic development took off in 1967–71 after the discovery of diamonds at Orapa.
From 1969, Botswana began to play a more significant role in international politics. In 1974, Botswana was one of the "Frontline States" seeking to bring majority rule to Zimbabwe, Namibia, and South Africa. The organization of the Frontline States led to the formation of the Southern African Development Coordination Conference in 1980.
Key dates in Botswana's history:
1867 – European gold prospectors arrive, mining begins. In 1885, British proclaim a protectorate called Bechuanaland.
1950 – Chief of the Ngwato, Seretse Khama, is deposed and exiled by the British.
1960 – Britain approves new constitution for Bechuanaland. Executive Council, Legislative Council and African Council are established. The following year, Seretse Khama is appointed to Executive Council and later founds the Bechuanaland Democratic Party (BDP), which is eventually renamed the Botswana Democratic Party. He becomes prime minister in 1965.
1966 – Bechuanaland is granted independence and becomes Republic of Botswana with Seretse Khama as president.
1967– Diamonds discovered at Orapa.
1999-2008 – Presidency of Festus Mogae – praised for diversifying Botswana's economy to reduce its dependence on diamonds.
2008 – Seretse Khama Ian Khama takes over as president.
2010 – Human rights group Survival International calls for a boycott of Botswanan diamonds, accusing the government of trying to force Basarwa bushmen away from their ancestral lands.
2014 – Gay rights group wins legal recognition.
2018 – Mokgweetsi Masisi becomes president and leader of the governing Botswana Democratic Party.
2020 – President Masisi declared a COVID-19-related state of emergency, and wide-ranging emergency legislation was gazetted. The Emergency Powers Act (EPA) prohibited the right to strike and prohibited the spread of false pandemic-related news among other provisions.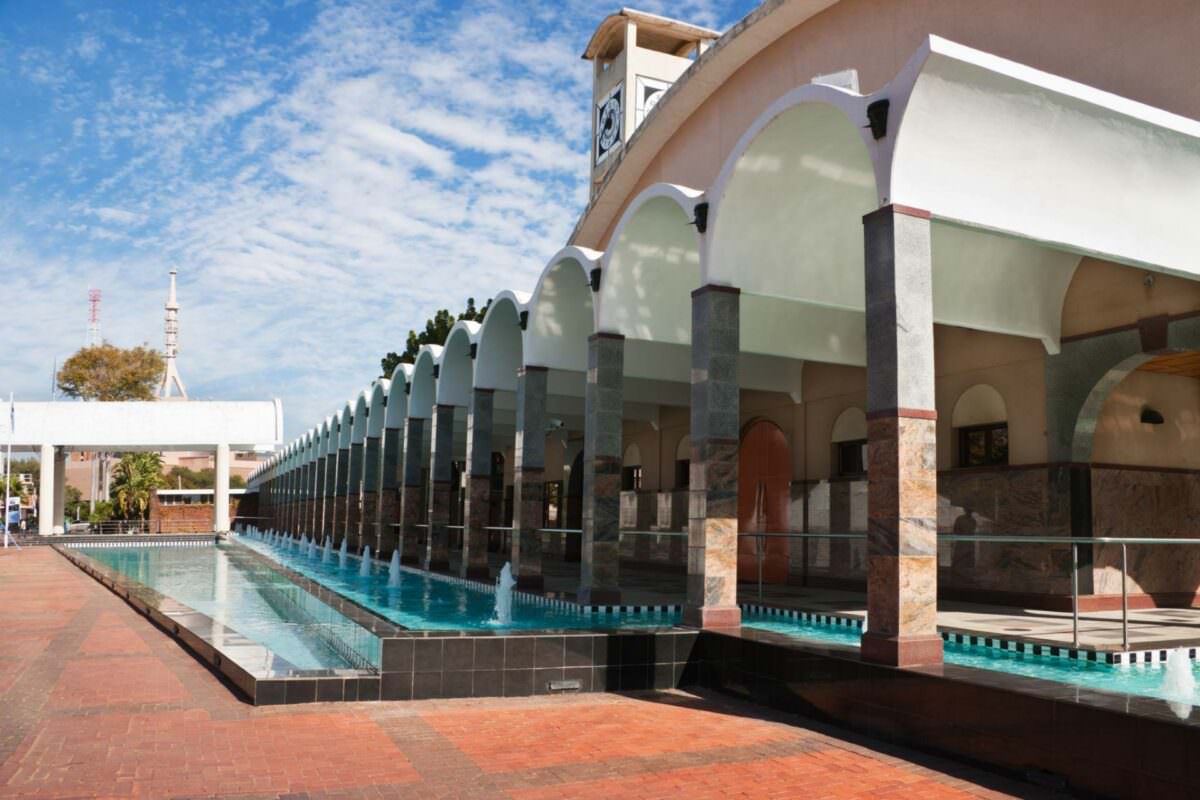 Legal System and Government
Under the 1966 constitution, Botswana is a multiparty republic. The president, who serves as the head of state and government, is indirectly elected to a five-year term and limited to 10 years in office. The National Assembly is composed of elected members (elected by universal adult suffrage) and a handful of ex officio members and appointed members nominated by the ruling political party; all members serve five-year terms.
The Ntlo ya Dikgosi (House of Chiefs) serves in an advisory role on matters of legislation pertaining to tribal law and custom. It is composed of permanent members (representing each of the eight Tswana "tribes") and members who are selected to serve a five-year term. Botswana's judicial system consists of a High Court, a Court of Appeals, and several Magistrate Courts.
Economy
Botswana has a mixed economic system, which includes a variety of private freedom, combined with a strong tradition of economic planning and government regulations to provide infrastructure for private investment. The economy has grown rapidly since the mid-1960s, with the gross domestic product per capita increasing more than a hundredfold.
Relatively few rural households benefit from cattle sales: almost half of them have no cattle, and less than one-tenth own about half of the country's cattle. Few households produce enough crops to cover even their own subsistence. Many rural households survive on the income of a family member in town or abroad. That still leaves a significant number of rural households, usually female-headed, with no source of income.
State revenues reaped from mining development have been spent on basic rural infrastructure and welfare services and on schemes to subsidize the development of cattle and crop production, which have in general benefited the richer rural households.
Diamonds are the major economic resource of the country, together with salt and soda ash have transformed Botswana into a middle-income nation.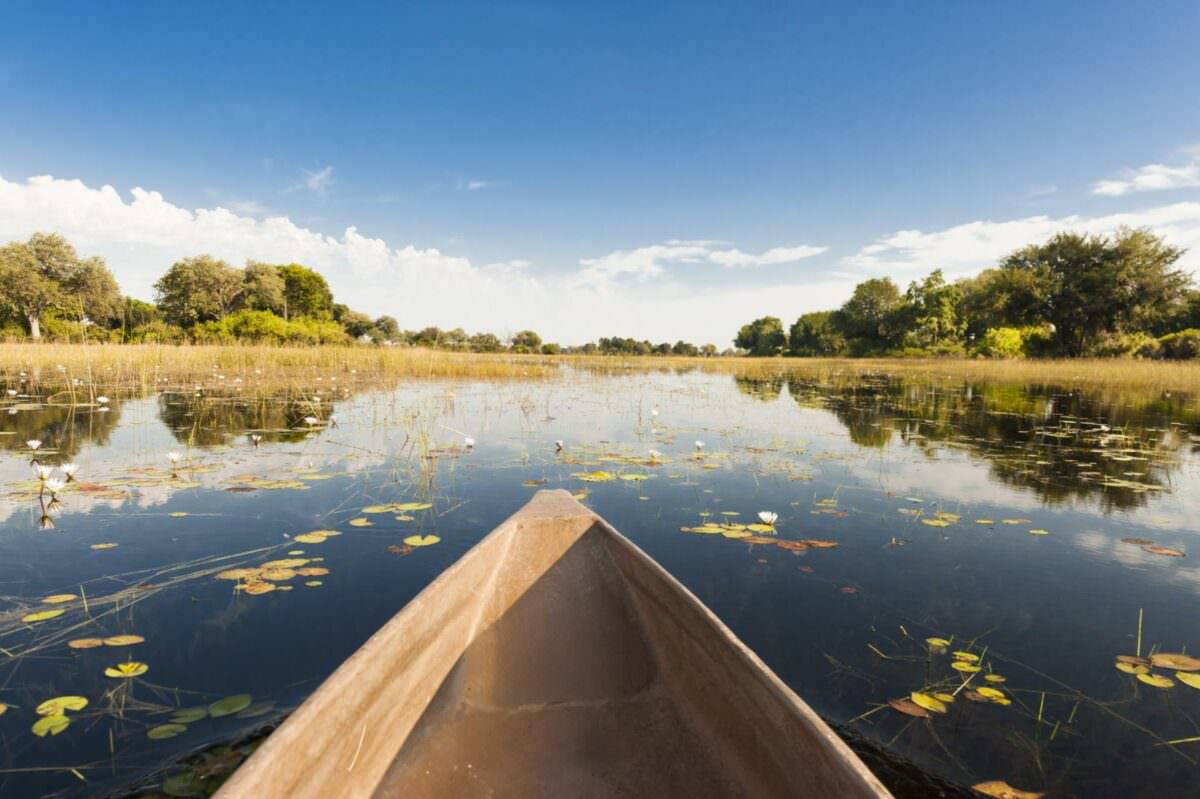 Trade
As of 2020, Botswana's GDP stands at 15.782 billion USD. Botswana was on an upward trajectory in terms of annual GDP growth ranging from 3-4% until a sharp drop in the last year, owing mainly to the impact of COVID-19. According to the African Development Bank outlook, Botswana's real GDP growth is estimated to grow by 7.5% in 2021 and 5.5% in 2022.
Botswana is a leading exporter of diamonds and relies heavily on precious stones, coins, pearls, and metals making up a whopping 89% share of all exports, followed by electronic equipment (2.3%), nuclear reactors and boiler machinery (1.0%) and live animals (0.94%). However, diamonds and precious stones also make up 31% of Botswana's imports due to beneficiation and to make local diamond production profitable. Botswana's other major imports are mineral fuels and oils, automotive vehicles excluding trams and railways, and machinery. The largest importers of Botswanan products as of 2020 are UAE (22%), Belgium (21%), India (21%) and South Africa (13%), whilst Botswana mostly imports from South Africa (59%), followed by Belgium (7.8%) Namibia (7.6%) and UAE (4.4%).
Investment Opportunities
Due to Botswana's affluence in such resources, mining of diamonds, precious stones and metals is an interesting investment sector, and the state of Botswana is actively encouraging collaboration opportunities ranging from mining ancillary support services like banking and security to spinoff projects such as hotels, restaurants, and transportation services. Botswana's landlocked geographical position in the center of the South African Development Community (SADC) and position as the third largest logistic operation environment in the region provides fruitful circumstances to promote construction of land corridors and infrastructure as an alternative to the other congested SADC corridors.
Sources
https://www.britannica.com/place/Botswana/Religion
https://thecommonwealth.org/our-member-countries/botswana
https://www.bbc.com/news/world-africa-13040376
https://www.britannica.com/place/Botswana/Government-and-society
https://www.cia.gov/the-world-factbook/countries/botswana/
https://www.britannica.com/place/Botswana/Botswana-since-independence#ref1205920