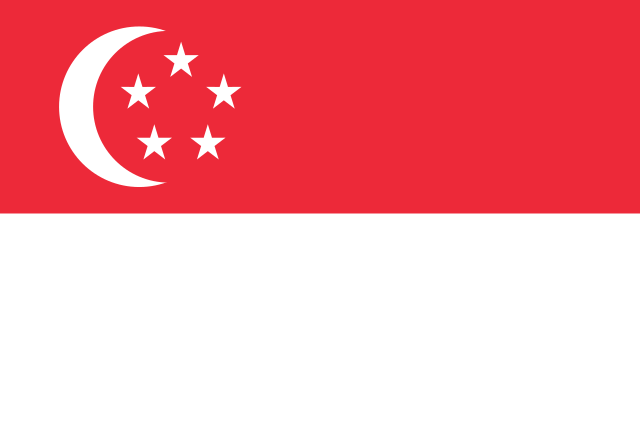 Capital city: Singapore
Population: 5,896,686 (2021)
Land area: 580 km²
Official language: English, Malay, Mandarin, Tamil
Legal system: English common law system
Time zone: GMT+8
Currency: Singapore dollar (SGD)
GDP: 379.071 USD billion (2021 est.)
Main industries: Electronics, chemicals, financial services, oil-drilling, equipment, petroleum refining, biomedical products, scientific instruments, telecommunications equipment, rubber, food and beverages, ship repair, offshore construction, life sciences, re-exportation
Principal exports: Machinery and equipment, electronics, telecommunications, pharmaceuticals, other chemicals, refined petroleum products, chemical products
Being the second most densely populated state in the world, with the largest number of millionaires per head of population, Singapore is a wealthy city state off the southern tip of the Malay Peninsula in Southeast Asia. The island's early success was attributed to its role as a convenient and free-trade harbor for three-way trade between China, India, and the Malay archipelago. Today it has a strong and thriving economy and has been dubbed one of Asia's economic "tigers." The country is also known for its conservatism and strict local regulations, and the country prides itself on its stability and security.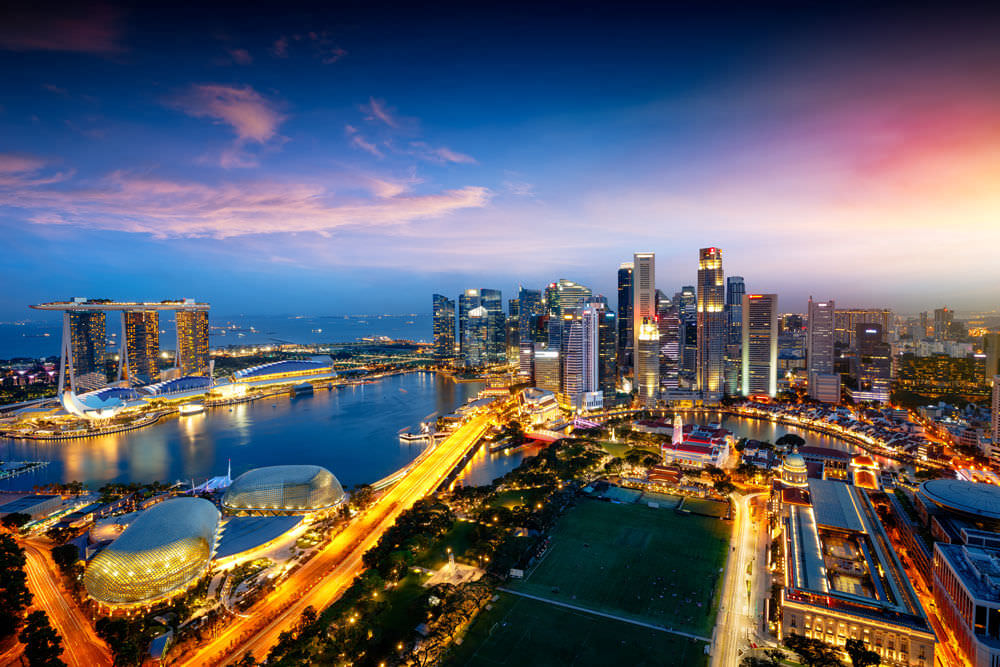 The British overloads of Singapore had spread their influence over the Malay Peninsula by the late nineteenth century, and Singapore's port had gained a rich hinterland of resources. The British lost their respect among Singaporeans after they failed to protect the city-state from Japanese occupation during World War II. In 1959, Yusof Bin Ishak served as the first Yang de-Pertuan Negara (Malay for "eminent Master of the State") and Lee Kuan Yew as its first and longest-serving Prime Minister. Singapore became a self-governing state within the British Empire. Singapore proclaimed independence from Britain unilaterally before joining the Federation of Malaysia with Malaya, Sabah, and Sarawak. On 9 August 1965, Singapore officially gained sovereignty. Yusof Bin Ishak was sworn in as the first president, and Lee Kuan Yew continued to serve as prime minister.
The majority of the multi-enthic population is of Chinese, Malays and Indians origin, with over 75% of Singapore's multi-racial population is Chinese. It has four official languages: English, Malay, Chinese and Tamil. English is mainly used in commerce, government and law. Malay is the national language of Singapore and one of the official languages. It is written in Rumi script, which is a type of Roman script. It is the main language of 13% of Singapore's population. Malay is also Singapore's national ceremonial language. It can be seen from its use in the national anthem, in citation for Singapore's commands and decorations, military exercise instructions and slogans.
To date, Singapore's largest industry is manufacturing, which accounts for approximately 25% of the country's annual GDP. The main industry groups of Singapore's manufacturing industry include electronics, chemicals, biomedicine, logistics and transport engineering. In the first quarter of 2021, thanks to a stronger-than-expected manufacturing sector, Singapore's economy grew at its fastest rate in more than a year. Driven by the strong output in the electronics, precision engineering and chemicals clusters, manufacturing sector expanded by 10.7% from a year ago. Another important source of the city's revenue comes from its financial services industry, which has maintained steady growth due to Singapore's favorable business environment and political stability. With more than 200 banks in the Singapore financial services market, it is the global financial centre hub for many global financial services companies, facilitating the transfer of knowledge, processes, technologies and skills between global, regional and national markets.
Singapore's top 5 exports in 2020 were electrical machinery & equipment, machinery, mineral fuels, optical, technical & medical apparatus, as well as gems & precious metals. This contributes US$132.2 billion (35.3%), $58.2 billion (15.5%), $30.3 billion (8.1%), $20.8 billion (5.6%) and $20.3 billion (5.4%) to overall exports from the city, respectively. The latest available country-specific data shows that 77.9% of the products exported from Singapore are purchased by importers from the following countries: China (13.8% of the world total), Hong Kong (12.4%), the United States (10%, 7 %), Malaysia (8.9%)), Indonesia (5.7%), Taiwan (4.9%), Japan (4.8%), South Korea (4.5%), Thailand (3.8%), Vietnam (3.3%), the Netherlands (2.7%) ) and India (2.5%). With a population of 5.77 million, its total exports in 2020 will be 374.2 billion U.S. dollars, which means a formidable 64,900 U.S. dollars for every resident in this export-dependent country.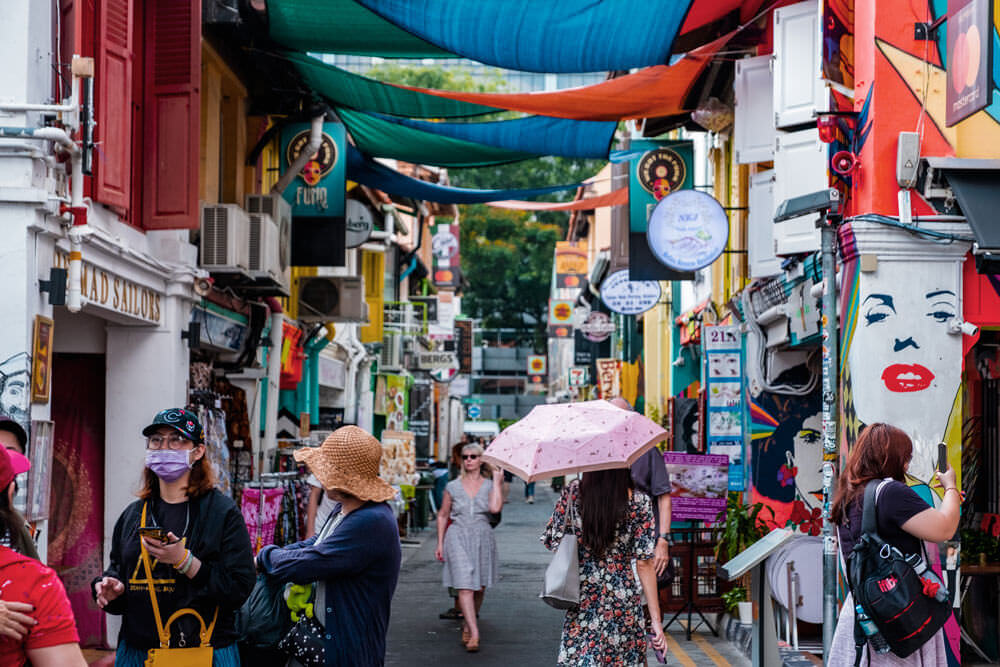 Singapore has 15 bilateral free trade agreements as well as 11 regional free trade agreements in force. The trade-weighted average tariff rate is 0 percent. Well-institutionalized openness to global investment encourages dynamic business activities. The government continues its ownership in the financial sector, but has consistently opened the domestic market to foreign banks. The industry has not taken any restrictive measures in 2020.
Singapore joined the Commonwealth after gaining independence in October 1965 as the 27th country and regularly participates in the biennial Commonwealth Heads of Government Meetings (CHOGM). In 1971, Singapore hosted the first CHOGM, which produced a seminal document, the "Declaration of Principles of the Commonwealth of Singapore". Singapore also contributes to the work of the Commonwealth, for example through the Commonwealth Youth Programme and the provision of technical assistance to Commonwealth members. It also has won the annual Commonwealth Essay Competition nine times since it was launched in 1983.
Recent activities include Prime Minister Lee Hsien Loong led a Singapore delegation to CHOGM 2018 in London, UK, CHOGM 2013 in Colombo, Sri Lanka, and CHOGM 2011 in Perth, Australia. Then-Deputy Prime Minister and Coordinating Minister for Economic and Social Policies Tharman Shanmugaratnam led Singapore's delegation to the 2015 CHOGM in Valletta, Malta.
https://www.bbc.com/news/world-asia-15961759
https://www.guidemesingapore.com/business-guides/immigration/get-to-know-singapore/a-brief-history-of-singapore
https://www.enterprisesg.gov.sg/non-financial-assistance/for-singapore-companies/free-trade-agreements/ftas/singapore-ftas
https://www.guidemesingapore.com/business-guides/incorporation/why-singapore/singapore-economy—a-brief-introduction
https://www.cnbc.com/2021/05/25/singapore-updates-q1-gdp-full-year-2021-economic-forecasts.html
https://www.mfa.gov.sg/SINGAPORES-FOREIGN-POLICY/International-Organisations/The-Commonwealth#:~:text=Singapore%20joined%20the%20Commonwealth%20in,Singapore%20Declaration%20of%20Commonwealth%20Principles.
https://thecommonwealth.org/our-member-countries/singapore