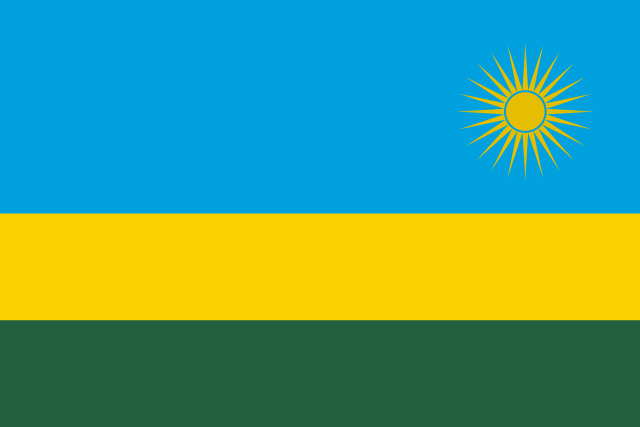 Capital city: Kigali
Population: 13.11 million (2021)
Land area: 26,338 km²
Official languages: Kinyarwanda, English, French, Swahili
Legal system: Civil Law, legal system is based on German and Belgian civil law systems and customary law
Time zone: GMT+2
Currency: Rwandan franc (RWF)
GDP: 10.63 USD Billion (2021 est.)
Main industries: Energy, agriculture, trade and hospitality, and financial services
Principal exports: Coffee, tea, tin cassiterite, Wolfframite, and pyrethrum
Rwanda's economy has become increasingly robust since the 1990s. It is one of the best African countries to trade with according to the Doing Business Rankings, which placed the country in 38th place worldwide for transacting with other nations. Its economy is growing, at a rate of 8.5%; one of the fastest in the world. It is also ranked as one of the top five countries for gender equality worldwide.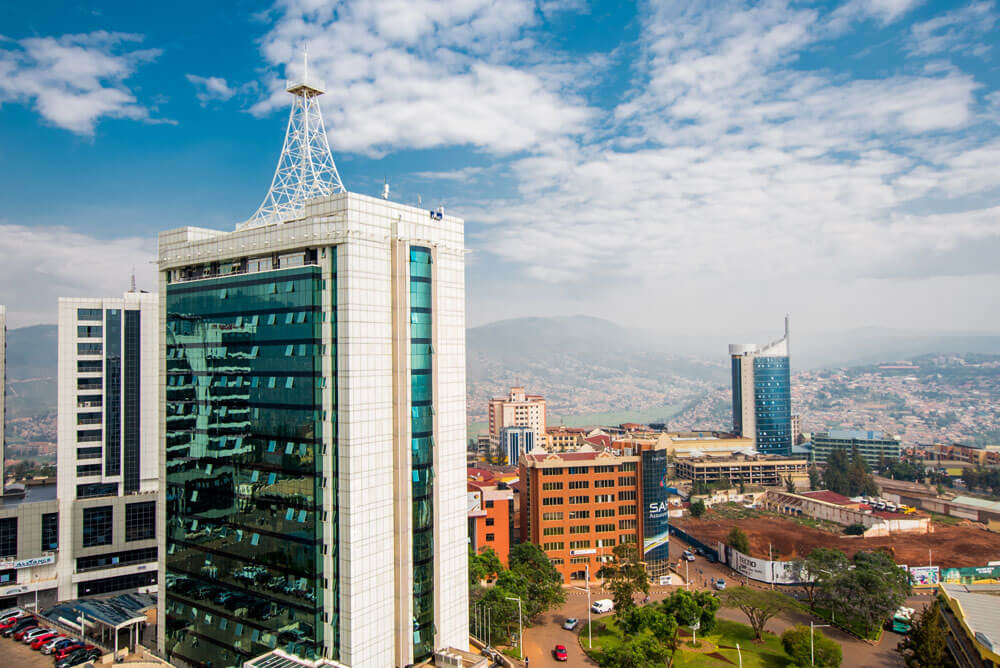 Rwanda's population reached over 13 million people in August 2020, of which the average age is 20 years old. Rwanda is one of Africa's most densely populated countries; most of the population live either near Lake Kivu or in the central regions of the country. As such, approximately three-quarters of the nation's land mass is used for agriculture. This explains why many Rwandans live rurally, with only 17.6 percent living in urban areas in 2020. However, whilst the country seeks to diversify its economy, the Rwandan government hopes to see an increase in urban populations to 35 percent by 2024.
Rwanda's economy has developed significantly since Paul Kagame assumed the presidency in 2000. It has been growing at an average rate of 7.5 percent from 2008 to 2018; in 2019, GDP grew at a rate of 9 percent to a total of US$10.12 billion. Despite the mountainous terrain, Rwanda relies on agriculture to support its economy. It contributes to 29 percent of the country's GDP and employs over three-quarters of the labour force. Rwanda's industrial sector is also significant; however, its activity centres around agricultural processing. The industry employs approximately 9 percent of the workforce.
Mining has also proved itself to be a successful sector, as Rwanda is now one of the largest producers of tantalum worldwide. In contrast, the tertiary sector is growing. Through the Government's 'Vision 2020' and 'Financial Sector Development' plans, the country aims to bolster its activity in areas ranging from financial services to tourism.
Trade is paramount for the success of the Rwandan economy: over 50 percent of national GDP is derived from the total value of all imports and exports. Total exports from the country amounted to US$207.95 million in the first quarter of 2020. Rwanda mainly exports agricultural produce, which constituted 63 percent of all exported products in 2019. Coffee accounts for around 60 percent of export revenue whilst tea exports make up around 30 percent. Tourism has also become an integral part of the economy and contributed around US$300 million to over export revenue in 2019.
Rwanda's principal trade partner in the first quarter of 2020 was the United Arab Emirates, who imported over 56 percent of Rwanda's total exported products, amounting to US$118 million. The Democratic Republic of Congo (9.5%), Pakistan (3.8%) and Hong Kong (3.3%) also import a share of the domestic products.
In contrast, Rwanda imported US$916.68 million worth of products in the first quarter of 2020. Amongst these imports were machinery, fuels and commodities. The main sources for imports were China (US$200 million), India (US$92.3 million) and United Arab Emirates (US$87.5).
The country is a member of both the Common Market for Eastern and Southern Africa and the East African Community. Rwanda has also signed a number of bilateral investment agreements with countries such as Belgium, Luxembourg, Germany and South Korea.
Rwanda has been a significant recipient of Chinese investment under the Belt and Road Initiative (BRI) since the end of 2018. By May 2019, investments of over US$2 billion were made to bolster a total of 173 manufacturing and mining projects across the country. Investment has also been devoted to the production of textiles in Rwanda, as more factories are built. Textile companies and plants supported by Chinese investment enjoy favourable tax treatment and robotics technology development.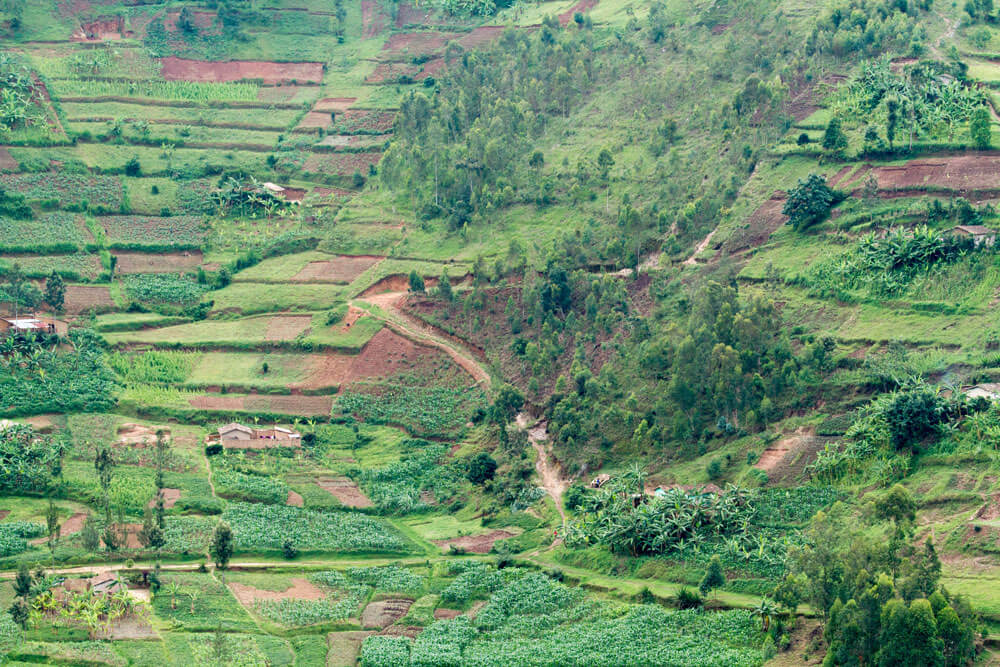 Rwanda's judiciary is based on a mixed legal system, which has strong links to the German and Belgian civil codes. It also respects customary law and legislative acts from the Supreme Court. Most claims start in the courts of first instance or in the provincial courts. They can progress to the Court of Appeal and furthermore to the Court of Cassation. The Constitution grants power to the executive in order for the president to appoint and dismiss judges.
When Rwanda joined the Commonwealth, Rwanda's Foreign Minister said the country was looking for investment in industries such as mining, manufacturing and education in particular. The Government have launched the 'Made in Rwanda', 'Visit Rwanda' and 'Start in Rwanda' programmes to not only promote investment in the country's existing industries, but also for entrepreneurial exploits. The programmes contributed 17 percent to Rwanda's GDP in 2019.
In January 2020, the UK Development Secretary announced an additional £6 million investment in addition to an original investment of £54 million into the Rwandan financial sector and agriculture. The Rwandan government are promoting their urban areas as possible outlets for international and global banks to establish an office. However, there are incentives for foreign investors looking to contribute to the agricultural sector, which include tax and duty exemptions and a 50 percent reduction in corporate income tax.
In an effort improve the country's infrastructure, Qatar Airways have invested an initial sum of US$418 million for the development of Bugesera Airport, which aims to become a net zero emissions project. Similarly, the Rwandan government have also agreed to the construction and operations of the Hakan Quantum Power Project: an 80MW Peat power plant, which will contribute significantly to energy production across Rwanda. Hakan has invested an initial US$400 into the project.
Rwanda is the most recent country to have become a Commonwealth member. Rwanda was due to host the Commonwealth Heads of Government Meeting and Commonwealth Enterprise and Investment Council Meetings in June of 2020; however, both have been postponed to 2021 due to the COVID-19 pandemic.
Sources
https://thecommonwealth.org/our-member-countries/rwanda
https://www.doingbusiness.org/en/data/exploreeconomies/rwanda
https://www.tandfonline.com/doi/full/10.1080/00358533.2019.1689638
https://www.voanews.com/africa/rwanda-touts-benefits-new-commonwealth-membership
http://www.commonwealthcbc.com/news/important-year-for-uk-rwanda-relations
https://www.consulate-info.com/consulate/23725/Rwanda-in-Hong-Kong
https://www.worldometers.info/world-population/rwanda-population/
https://www.cia.gov/library/publications/the-world-factbook/geos/print_rw.html
https://www.mininfra.gov.rw/index.php?id=100&tx_news_pi1%5Bnews%5D=345&tx_news_pi1%5Bcontroller%5D=News&tx_news_pi1%5Baction%5D=detail&cHash=9b2a9c91713af86023df7371b7ee526f
https://tradingeconomics.com/rwanda/gdp
https://www.worldbank.org/en/country/rwanda/overview
https://centreforaviation.com/analysis/reports/qatar-airways-buys-into-new-rwanda-airport-development-506642
https://theodora.com/wfbcurrent/rwanda/rwanda_economy.html
https://www.africa.upenn.edu/NEH/rweconomy.htm
https://www.heritage.org/index/country/rwanda
https://www.nordeatrade.com/en/explore-new-market/rwanda/economical-context?vider_sticky=oui
http://statistics.gov.rw/publication/formal-external-trade-goods-statistics-report-q1-2020
https://www.export.gov/apex/article2?id=Rwanda-Trade-Agreements
https://www.beltandroad.news/2019/05/09/rwanda-records-over-2-billion-investment/
https://beltandroad.ventures/beltandroadblog/china-rwanda-belt-and-road
https://www.indexmundi.com/rwanda/legal_system.html
https://www.nationsencyclopedia.com/Africa/Rwanda-JUDICIAL-SYSTEM.html
https://www.newtimes.co.rw/news/road-chogm-rwanda-lines-investment-opportunities
https://www.visitrwanda.com/investment/investment-opportunities/