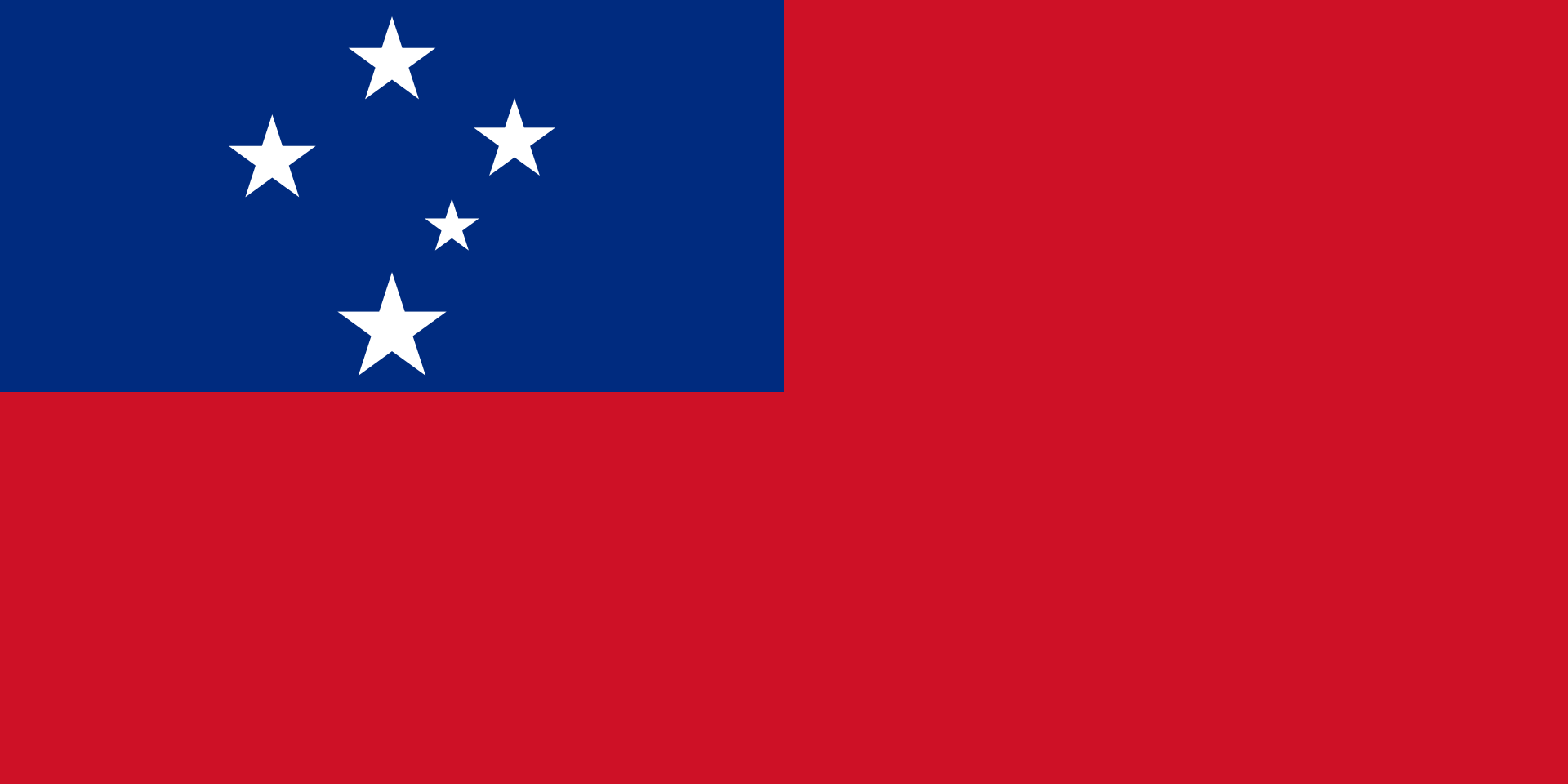 Capital city: Port Moresby
Population: 9,098,894 (2021 est.)
Land area: 462,840 km²
Official languages: English,Hiri Motu,PNG Sign Language, Tok Pisin
Legal system: Common law and customary law
Time zone: GMT+10
Currency: Papua New Guinean kina (K)
GDP: 24.54 USD Billion (2021 est.)
Main industries: Agriculture and livestock, forestry, mining and petroleum, tourism and hospitality, fisheries and marine resources, manufacturing, retailing and wholesaling, building and construction, transport and telecommunications, finance and business trade.
Principal exports: Gold, copper, palm oil, coffee
As a small island country, Samoa has a small population of around 200,000 in 2020.  Despite a relatively high birth rate of 19.32 births per 1,000 population, the population growth rate of Samoa, being 0.985% in 2020, remained lower than the world average of 1.05% per year because tens of thousands of Samoans had emigrated to places such as New Zealand, the United States, Australia. With a median age of 25.6, Samoa's population is young. 38% of the population are aged under 15, 57% are aged 15-64, and 5% are aged 65 or above.
The overwhelming majority of Samoa's population are ethnic Samoans who are of Polynesian heritage. Samoan is the official language in Samoa, while English is used in administration and commerce. English is widely spoken as a second language and by many younger Samoans.
Sitting about halfway between New Zealand and Hawaii, Samoa is made up of an archipelago of nine islands in the South Pacific Ocean. Among the islands, four of them are inhabited, including the two largest islands in Samoa called Savai'i and Upolu. The islands are formed by volcanic activity within the past few millions of years. The volcanoes in Samoa today are dormant and extinct, with only a few exceptions like Mount Matavanu on the island of Savai'i. The volcanic activity has resulted in the creation of interesting landforms, for instance large lava tubes and rugged coastlines of black volcanic rock.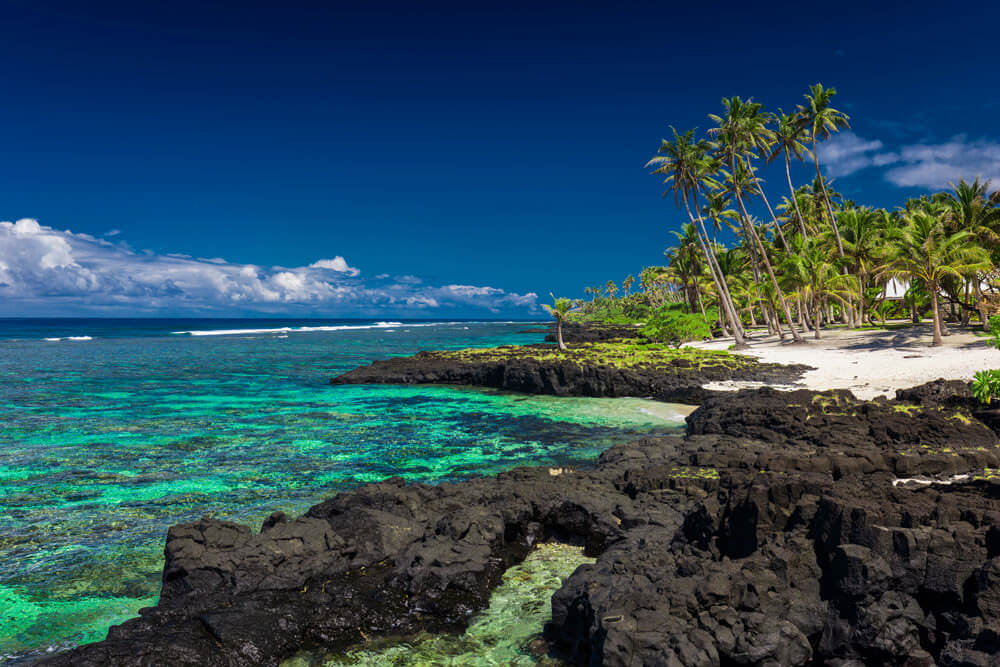 Samoa's climate is tropical and humid. While the temperature in Samoa does not vary much during the year, Samoa has distinct wet and dry seasons.  Visitors often choose to visit Samoa during its dry season between May and October. For the wet season, intense thunderstorms are rather common.
The history of Samoa started with the arrival of the Polynesians about 1000 BCE. As suggested by the characteristics of the Samoan language, those Polynesians likely come from Tonga. Dutch navigator Jacob Roggeveen's exploration of the islands in 1722 marked the beginning of European influence in Samoa.  This was followed by the arrival of the London Missionary Society, which established a Christian mission in 1830.  In 1889, as Britain, the US and Germany all sought influence in the Samoan islands, the three countries signed a treaty which allowed the country to have an independent government under their supervision.  Shortly afterwards, Britain withdrew its interests and, as a result, Germany and the US agreed to take over Western Samoa and eastern Samoa (i.e. American Samoa) respectively. New Zealand occupied Western Samoa in 1914 and was given a League of Nations mandate to administer the country in 1917. In 1962, Western Samoa, which is now known as Samoa, became the first Pacific Island nation to achieve independence after gaining independence from New Zealand.
The government of Samoa is a parliamentary republic, and includes a mixture of the elements of Samoan and New Zealander traditions. The Head of State, elected by the Legislative Assembly for a five-year term, has the power to appoint the Prime Minister to serve as head of the government. The Human Rights Protection Party has been the ruling party of Samoa for most of the time throughout Samoa's independent history.
Samoa's legal system is a mixed one. On the one hand, the English common law is practised in court procedures; on the other hand, local customs are considered in certain cases. Although Samoa's judicial system is headed by the Supreme Court of Samoa, the Court of Appeal of Samoa, which consists of the Chief Justice and other Supreme Court judges, can overturn the Supreme Court's decision and allow an appeal.
Samoa has advanced from the status of least developed country to developing country in January 2014. In 2019, its GDP and GNI per capita are US$852 million and US$4,190 respectively. As its imports are more than its exports, Samoa experienced a trade deficit of US$125 million in 2019.  Among its total imports of US$391 million in 2019, major imports include food, petroleum, automobiles, industrial supplies and consumer goods. On the other hand, coconuts, caocao, and beer constitute major exports of Samoa whose exports amount to US$49 million in value in 2019. The major trading partners of Samoa include New Zealand, Australia, China, the US and Japan.
It is estimated that agriculture contribute around 10% of Samoa's GDP in 2017 and accounts for around 65% of the workforce. There are three categories of agriculture in Samoa: (i) subsistence farming, (ii) semi-commercial farming; and (iii) commercial farming. Local farmers mostly engage in subsistence farming, with the surplus sold for cash. Common crops in Samoa include coconuts, bananas, taro, coffee, cocoa and mangoes. For livestock, cattle, pigs and poultry are often raised and consumed locally.
As estimated in 2017, the GDP of the industrial sector accounts for around 23% of the Samoa's total GDP.  The light manufacturing industry in Samoa is not only growing but also diversified. Common light manufactures include beer, cigarettes, coconut oils, corned beef, soap, paint and handicrafts. Samoa's manufacturing industry attracts a lot of foreign investment. For instance, the Japanese-owned Yazaki EDS, Samoa is a large manufacturer and is one of the leading employers in Samoa; Samoa Breweries, a brewer dominating the Samoan beer market, was taken over by an Australian firm.
The tourism industry serves as the foundation of Samoa's service sector, which is estimated to account for 66% of Samoa's GDP in 2017.  Samoa is an increasingly popular travel destination for people living in American Samoa, New Zealand, Australia, the United States and Europe.  Samoa is known for its warm culture and genuine hospitality as well as its natural beauty, for example white-sand beaches, mountains, waterfalls, and black rock lava fields.
Samoa joined the Commonwealth in 1970 and first participated in the Commonwealth Games in 1974.  It performed very well in the 2010 Commonwealth Games held in New Delhi, ranking 15th overall with three gold and one bronze medals.  Samoa also hosted the fifth edition of the Commonwealth Youth Games in 2015 in its capital, Apia.
Links:
https://www.britannica.com/place/Samoa-island-nation-Pacific-Ocean
https://assets.publishing.service.gov.uk/government/uploads/system/uploads/attachment_data/file/982359/Samoa-april-2021.pdf
https://www.worldometers.info/world-population/
https://commonwealthofnations.org/yb-pdfs/samoa_country_profile.pdf
https://www.samoa.travel/discover/our-culture/language/
https://thecommonwealth.org/our-member-countries/samoa
https://www.samoa.travel/travel-info/explorers/volcanoes/
https://www.samoa.travel/travel-info/climate-weather/
https://www.bbc.com/news/world-asia-15655855
https://www.commonwealthofnations.org/sectors-samoa/government/#
https://www.cia.gov/the-world-factbook/countries/samoa/
https://www.nationsencyclopedia.com/Asia-and-Oceania/Samoa-JUDICIAL-SYSTEM.html
https://samoaglobalnews.com/samoa-ca-decision-women-is-straightforward-if-you-read-and-understand-its-legal-reasoning/
https://wits.worldbank.org/countrysnapshot/en/WSM/textview
https://www.commonwealthofnations.org/sectors-samoa/business/agriculture/#
https://www.travelnation.co.uk/blog/travel-to-samoa-why-this-hidden-gem-demands-to-be-explored
https://lets-travel-more.com/10-things-samoa-is-famous-for/
https://thecgf.com/results/games/3046