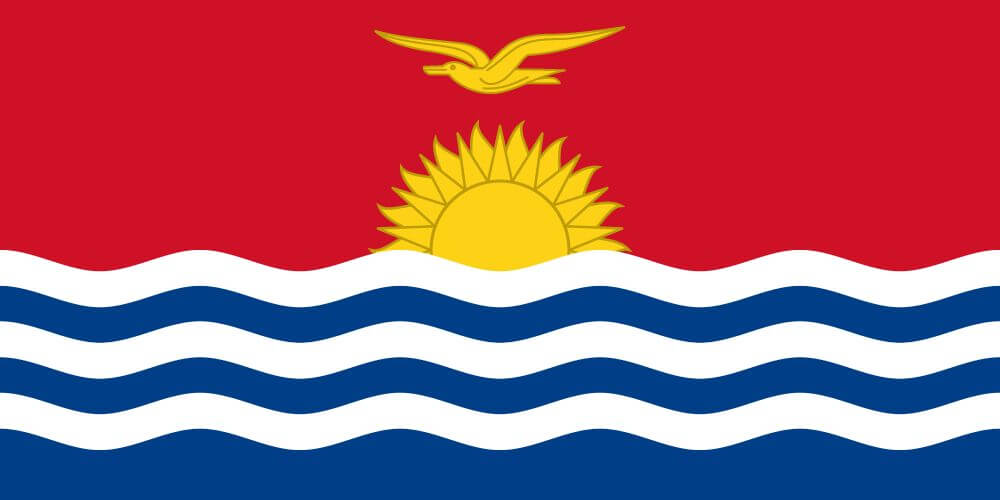 Capital city: Tarawa
Population: 121,392 (2021)
Land area: 811 km²
Official languages: English; Gilbertese
Legal system: English common law supplemented by customary law
Time zone: UTC+12, +13, +14
Currency: Australia dollar (AUD)
GDP: 0.22 USD Billion (2021 est.)
Main industries: Fishing, handicrafts
Principal exports: Coconut oil and fish
Quite unlike many other Commonwealth countries, Kiribati is composed of 33 atolls which cover a vast expanse of the Pacific Ocean, which reaches nearly 8,000km in area. The largest of these atolls is Kiritimati Atoll, which constitutes almost half of Kiribati's area. The country hosts several coconut plantations and fish farms.
Demographic
Although the nation covers many small islands, most of Kiribati's 121,400 population live on the Gilbert Islands, with a smaller proportion on the Line Islands. Most of the population speaks I-Kiribati (Gilbertese) or English, which is the country's official language. Most citizens are Christian, either confirming to Roman Catholicism or Kiribati Protestantism. Over half of the population live in urban areas, with more than 40% living in South Tarawa, which hosts a commercial port.
History
The Gilbert Islands became a British protectorate in 1892, and Banaba was annexed in 1900 after the discovery of its rich phosphate deposits. Both were linked with the Ellice Islands (now Tuvalu) and subsequently termed the Gilbert and Ellice Islands Colony from 1916, which extended to include most of the Phoenix and Line Island groups and, for a time, Tokelau.
Due to drought and fear of overpopulation in the 1930s, the Phoenix Islands underwent resettlement, and later more islanders were resettled in the Solomon Islands. An elected House of Representatives was established in 1967 but it was followed by increasing ethnic tensions that made the Gilbert Islands and the Ellice Islands into two territories in 1975–76.
In 1971 the Banabans sued the British government for phosphate mining and compensation for the island's environmental devastation caused by the mining. Although the first trial ended inconclusively, in 1981 the community agreed to Britain's offer of a one-time trust payment of $10 million (Australian) in return for the abandonment of further litigation. The Gilbert Islands achieved independence under the name Kiribati in 1979.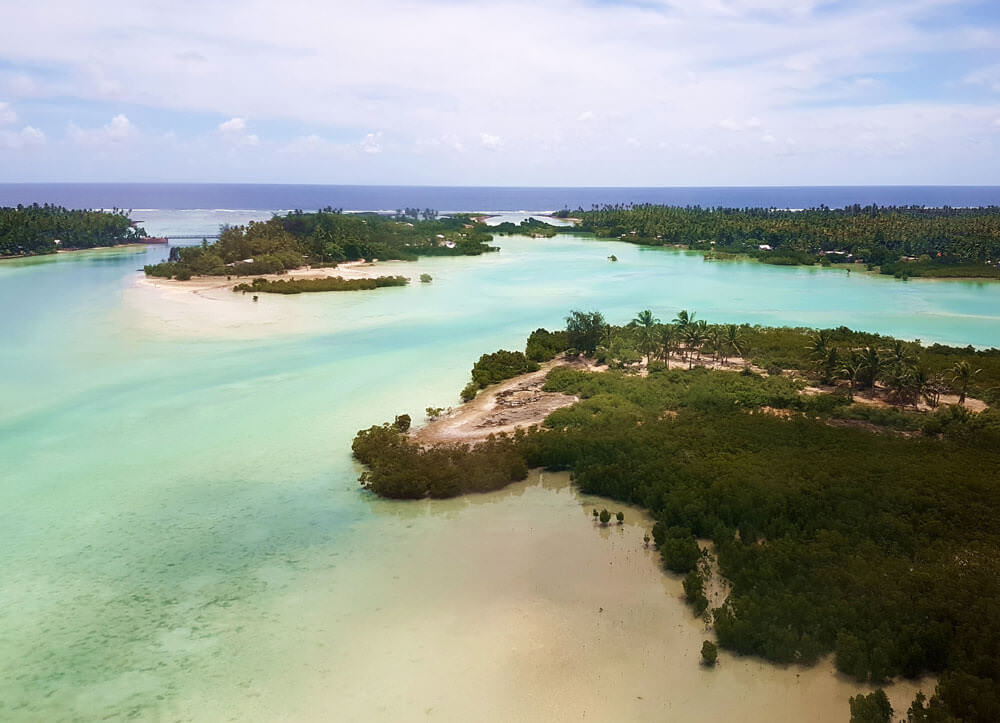 Key dates
1975 The British government refuses to recognise demands for independence by Banabans. The colony is divided into two separate territories, the Gilbert Islands and the Ellice Islands.
1977 The Gilbert Islands obtain internal self-government.
1979 The Gilbert Islands become an independent republic within the Commonwealth under the name of Kiribati on the 12th of July. Ieremia Tabai becomes president.
1981 After the verdict of the High Court hearings in Britain, the Banaban people accept increased compensation offer.
1982 First elections since independence.
1989 Overcrowding prompts resettlement of inhabitants to other low-lying atolls.
1991 First president, Ieremia Tabai, stands down having served three terms.
1995 Kiribati suspends diplomatic relations with France, in protest at the French decision to resume nuclear tests on Mururoa Atoll in French Polynesia.
1999 September – Admitted to the United Nations.
2006 March – Kiribati creates the world's third-largest marine reserve. Fishing is banned in the Phoenix Islands Protected Area, home to hundreds of species of fish and coral.
2012 March – Kiribati cabinet approves plan to buy 6,000 acres of land on Fiji for use if rising sea levels necessitate relocation of Kiribati citizens.
2014 May – Kiribati makes final payment on the purchase of 6,000 acres of land in Fiji for possible relocation.
2014 February – Fijian Prime Minister Voreqe Bainimarama says residents of Kiribati will be welcome to relocate to Fiji if their country is swamped by rising sea levels.
Legal System and Government
Kiribati is a republic with a parliamentary democracy structure. The president is elected by the people from three to four candidates that are selected by the unicameral House of Assembly. The president can serve a maximum of three terms consisting of four years each. The House of Assembly has 42 members of which 40 are elected; 1 seat is reserved for the expatriate Banaba community on Rabi Island in Fiji; and the attorney general, who serves as an ex officio member. The president chooses up to 10 cabinet ministers from the legislature. Local government is through elected island councils.
Kiribati's legal system has a High Court, which acts as a supreme court, and respects English common law and traditional customary law. It hosts a chief justice and additional judges and can hear appeals from the Court of Appeal and inferior courts. Civil and criminal matters can be addressed by Island courts, whilst native land courts hear property disputes.
Economy
Due to the island of Banaba's depleting deposits of phosphate, Kiribati turned to other products to support its economy. The country now makes most of its revenue from fishing licence fees, and the commercial production of sea salt, seaweed and the export of coconut and copra products.
The manufacturing sector is still growing and produces clothing, furniture, and beverages for local consumption. The country's nearness too the Equator makes it a prime location for satellite data transmission and spacecraft facilities due to which several countries have established their own space administrations that contributes to employment and revenue for the state.
Trade
Kiribati's GDP in 2020 was US$200 million. According to recent data on trade recorded for 2019, exports totalled US$86,300,000 which mainly came from the export of non-fillet frozen fish (79.3%), followed by fish fillets (6.9%), fishing ships (5.5%), and coconut oil (2.9%). Main export destinations were Thailand (53.3%), Philippines (16.9%), South Korea (9.7%) , and Japan (8.9%). Imports amounted to US$100 million, the main ones being refined petroleum (11.8%), netting (4.1%), raw sugar (3.12%), and rice (3.10%). Main import supplying countries were China (20.2%), Fiji (18.6%), Australia (12%) and South Korea (10.5%).  
Investment Opportunities
Due to the nation's location near the equator, investment in space launching and satellite telemetry prove to be profitable. The island of Banaba, which was previously used for mining phosphate, does not house many people, and could be better used for space exploration and research projects. Such projects would create employment and bring capital to the country's economy.
Due to Kiribati's abundance of fishing waters, demand for suitable fishing equipment and storage facilities for exported marine produce could be met through foreign investment.
Due to rising sea levels, landfill sites are scarce in Kiribati. The lack of adequate waste disposal infrastructure has left some onshore lagoons polluted. Projects which aim to utilise uninhabited atolls in Kiribati could solve this problem and could potentially serve as a stable investment.
Sources
https://www.britannica.com/place/Kiribati
https://www.bbc.co.uk/news/world-asia-pacific-16431122
https://thecommonwealth.org/our-member-countries/kiribati
https://wits.worldbank.org/countrysnapshot/en/KIR/textview
https://www.nationsencyclopedia.com/Asia-and-Oceania/Kiribati-CUSTOMS-AND-DUTIES.html
https://www.nationsencyclopedia.com/Asia-and-Oceania/Kiribati-JUDICIAL-SYSTEM.html
https://oec.world/en/profile/country/kir