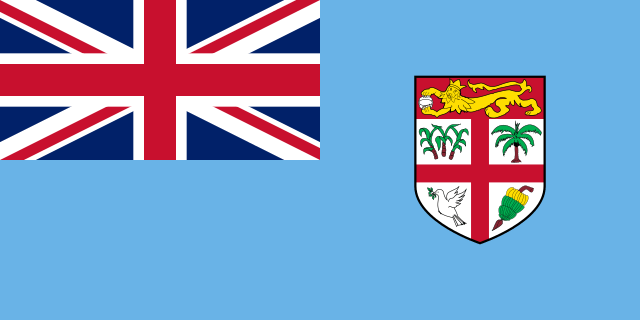 Capital city: Suva
Population: 902,234 (2021)
Land area: 18,333 km²
Official languages: English, Fijian, Hindi
Legal system: A national civil law system
Time zone: GMT+12
Currency: Fijian dollar
GDP: 4.80 USD Billion (2021 est.)
Main industries: Tourism, sugar processing, clothing, copra, gold, silver, lumber
Principal exports: Sugar, garments, gold, timber, fish, molasses, mineral water and coconut oil
An island group in the South Pacific Ocean in between Hawaii to New Zealand, Fiji comprises an archipelago of more than 330 islands of which about one hundred are inhabited. Most of the islands were formed by volcanic activity. It surrounds the Koro Sea about 1,300 miles (2,100 km) north of Auckland, New Zealand.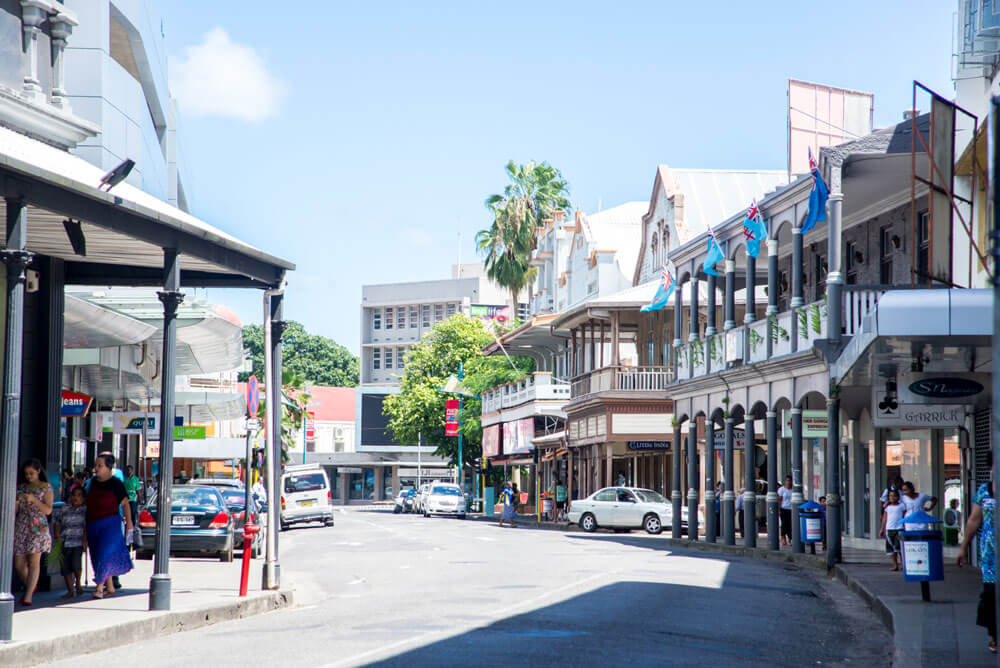 Demographics
Fiji's population of 902,906 (as of July 2021) is comprised mostly of native Fijians, or Melanesians, at 54%. Many native Fijians have Polynesian ancestry as well. Indo-Fijians account for 38% of the population. Migration has reduced the percentage of Indo-Fijians dramatically over the last 20 years. Approximately 1% of Fiji's population are Rotuman, who are natives of Rotuma Island.
Roughly half of the population lives in urban areas, with an estimated 70% of the population living on the island of Viti Levu. Approximately 43% of the population is below the age of 25.
Protestantism is the dominant religion practiced by 45% of citizens, followed by Hinduism (28%), Roman Catholicism (9.1%), Islam (6.3%), Sikhism (0.3%), and others. Fiji has three official languages: English, iTaukei, and Fiji Hindi.
History
Fiji became independent on 10 October 1970. Until 1987, the government was formed by the Alliance Party led by Ratu (Chief) Sir Kamisese Mara which followed policies of moderate multiracialism. The largest Indo-Fijian party, the National Federation Party (NFP), formed the main opposition for most of the period and calls from Indo-Fijians for greater political and property rights increased.
Elections in April 1987 resulted in victory for a coalition consisting of the NFP and the Fiji Labour Party (FLP), led by Dr Timoci Bavadra and supported by both ethnic Fijian and Indo-Fijian trades unions. Bavadra, an ethnic Fijian, became Prime Minister. In May 1987, the government was overthrown in a coup led by Lieutenant-Colonel Sitiveni Rabuka, who called for the ethnic Fijian dominance of all future governments.
The May 1987 coup was followed by a period of racial unrest, during which the Great Council of Chiefs attempted to introduce constitutional reforms. Negotiations between Mara and Bavadra resulted in the formation of an interim government of unity. However, Rabuka led a second coup in September 1987 and in October he declared Fiji a republic. Having become a republic, it was then required to reapply for membership of the Commonwealth and, at their summit in Vancouver in October 1987, Commonwealth Heads of Government decided to allow its membership to lapse, primarily on the grounds that Fiji had adopted a form of government at variance with the democratically expressed wish of the people and so with Commonwealth principles. In December 1987 Rabuka appointed a new civilian government with Mara as Prime Minister and Ganilau as President.
Between 1988 and 1990, a new constitution was drawn up and approved by the Great Council of Chiefs, but the National Federation Party–Fiji Labour Party coalition announced it would boycott any elections held under its provisions. The constitution was also the subject of international criticism, especially from the Commonwealth states India, Australia, and New Zealand.
Key dates in the history of Fiji
1643 – Dutch explorer Abel Tasman is the first European to visit the islands.
1970 – Independence after a century of British rule.
1987 – The first of two coups overthrow the Indian majority government of Prime Minister Timoci Bavadra.
1999 – Mahendra Chaudhry is elected Fiji's first ethnic Indian prime minister but is overthown a year later.
2014 – Former military leader Frank Bainimarama is elected prime minister, eight years after seizing power in a coup.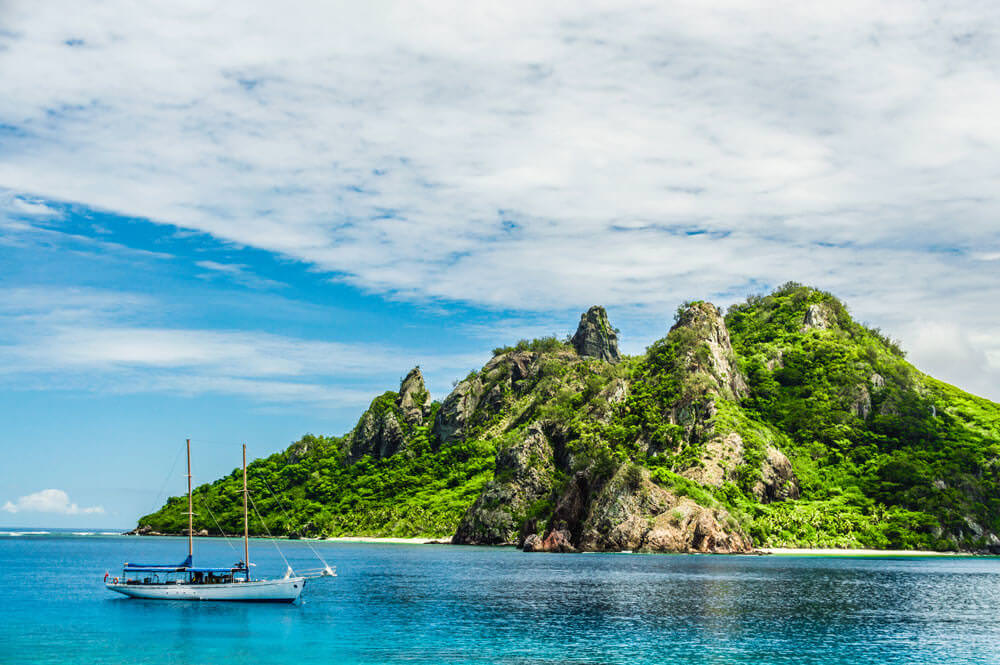 Legal System and Government
The politics of Fiji take place within the framework of a parliamentary representative democratic republic. Fiji has a multiparty system with the Prime Minister of Fiji as head of government. The executive power is exercised by the government. Legislative power is vested in both the government and the Parliament of Fiji. The judiciary is independent of the executive and the legislature. A new Constitution was promulgated in September 2013, and a general election was held in September 2014, won by Bainimarama's Fiji First Party.
Fiji's legal system respects the English Common Law system. In 1990 the judicial system was reorganised by the constitution, but it retains elements of the British system. The judicial system consists of the Supreme Court, Court of Appeal, High Court and Magistrates' Court, and is presided over by the chief justice. The High Court comprises civil, criminal, family, employment relations and tax divisions, the Magistrates' Court, civil and criminal divisions, the Juvenile Court and Small Claims Tribunal.
Economy
Fiji has a market economy based primarily on tourism and agriculture, the latter including a substantial subsistence sector dominated by indigenous Fijians. Subsistence farmers earn supplementary cash income from cultivating copra, cocoa, kava, taro (locally called dalo), pineapples, cassava (manioc), or bananas or from fishing. The commercial sector is heavily based on garment manufacturing and on sugarcane, which, for the most part, is produced by independent Indian farmers.
The economy also has a strong service and light-industrial component serving small neighbouring countries as well as Fiji; activities range from boatbuilding (especially fishing boats and pleasure craft) to brewing and paint manufacture. The government offers incentives (including residence) for investors but insists on potential for job creation and training programs for local employees.
Trade
Fiji's GDP amounted to US$4.3 billion in 2020. In 2019, The top exports were mineral fuels, oils, distillation products (21%), beverages, spirits, and vinegar (14%), fish, crustaceans, mollusks, aquatics invertebrates (11%), and electrical and electronic products (7.0%). Main export destinations were the US (26%), Australia (15%), New Zealand (8.5%), and Tonga (6.7%). Top imports of 2019 were mineral fuels, oils, distillation products (19%), air spacecraft (17%), machinery, nuclear reactors, boilers (8.2%) and electrical and electronic equipment (6.7%). Main import suppliers were Singapore (19%), Australia (15%), China (13%), and New Zealand (13%)
Investment Opportunities
Many joint venture opportunities are available in being advertised in the tourism industry in The Bahamas now that the world is slowly moving on a post pandemic recovery period, such as the nautical tourism industry, artificial islands like the Emerald Bay that is planned to be an innovative and cutting-edge technology development. Beach land estates, apartments and resort facilities are open to foreign firms to purchase and/or invest in. Fiji's growing floating docks and ship repair sector also offers opportunities for investment and ship making companies to move to. Fiji has a skilled and cheap labour force that could be employed for these investment purposes.
Sources
https://thecommonwealth.org/our-member-countries/fiji
https://www.britannica.com/place/Fiji-republic-Pacific-Ocean  
https://www.bbc.com/news/world-asia-pacific-14919067
https://thecommonwealth.org/our-member-countries/fiji/history 
https://worldpopulationreview.com/countries/fiji-population
https://www.commonwealthgovernance.org/countries/pacific/fiji/judicial-system/
https://www.commonwealthofnations.org/sectors-fiji/business/legal/
https://www.nationsonline.org/oneworld/fiji.htm
https://www.worldatlas.com/articles/languages-of-fiji.html
https://www.cia.gov/the-world-factbook/countries/fiji/
https://tradingeconomics.com/fiji