Did you know the first Commonwealth Law Conference was held in London in 1955, and since then it has been held in various cities across the Commonwealth, including Singapore, Cape Town, Auckland, and Edinburgh. The most recent conference was held in Goa, India.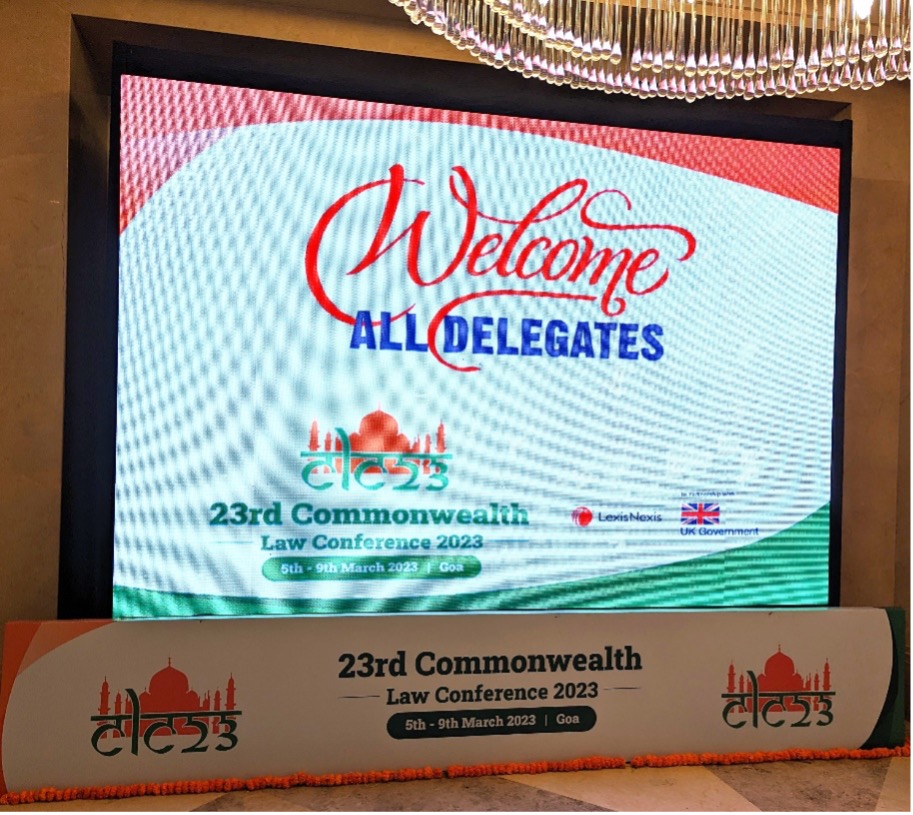 Welcoming of conference Delegates
Working with the Commonwealth Chamber of Commerce I had this great opportunity to attend this year's CLC2023 event. The five-day conference was themed as: "Commonwealth Lawyers-common challenges in uncommon times" giving an opportunity to connect, discuss, explore legal developments and celebrate innovations and best practice throughout the 56 Commonwealth jurisdictions.
I always loved talking and meet new people. However, as I am from a very small town in Bihar, India, known as Ekma, it was considered uncultured to talk and speak your mind. We still follow purdah and silence is the jewel of a cultured women. The town still follows Panchayat system where all the legal decisions are handled by 5 senior people from the community.
Thanks to my family, long time back, they commuted to another city – Lucknow in the state Uttar Pradesh, which is also the capital city of Uttar Pradesh, India. My family is famous for exploring out-of-the-box options. Like, me and my brother were the first one in my whole great grand family who received all the education for the first time in a school where medium of instruction was English and not Hindi. It wasn't easy. They had to face a lot of criticism from the whole village, specially to make a girl child explore the world and study in co-education system.
For example, it is still very common to abort a girl child out there and have grand celebrations for a son's success. Since childhood I always carried this burden to not be a disgrace to my family and try to bring a positive outlook for the next generation of the family, especially female. For the people in my community it is still useless to spend money on her education. Unconsciously, my parents always warned me to be careful about the decisions I make; for example, never fall in love with a man from another community. Thankfully with time things have changed a lot but that was still prevalent during my teenage years.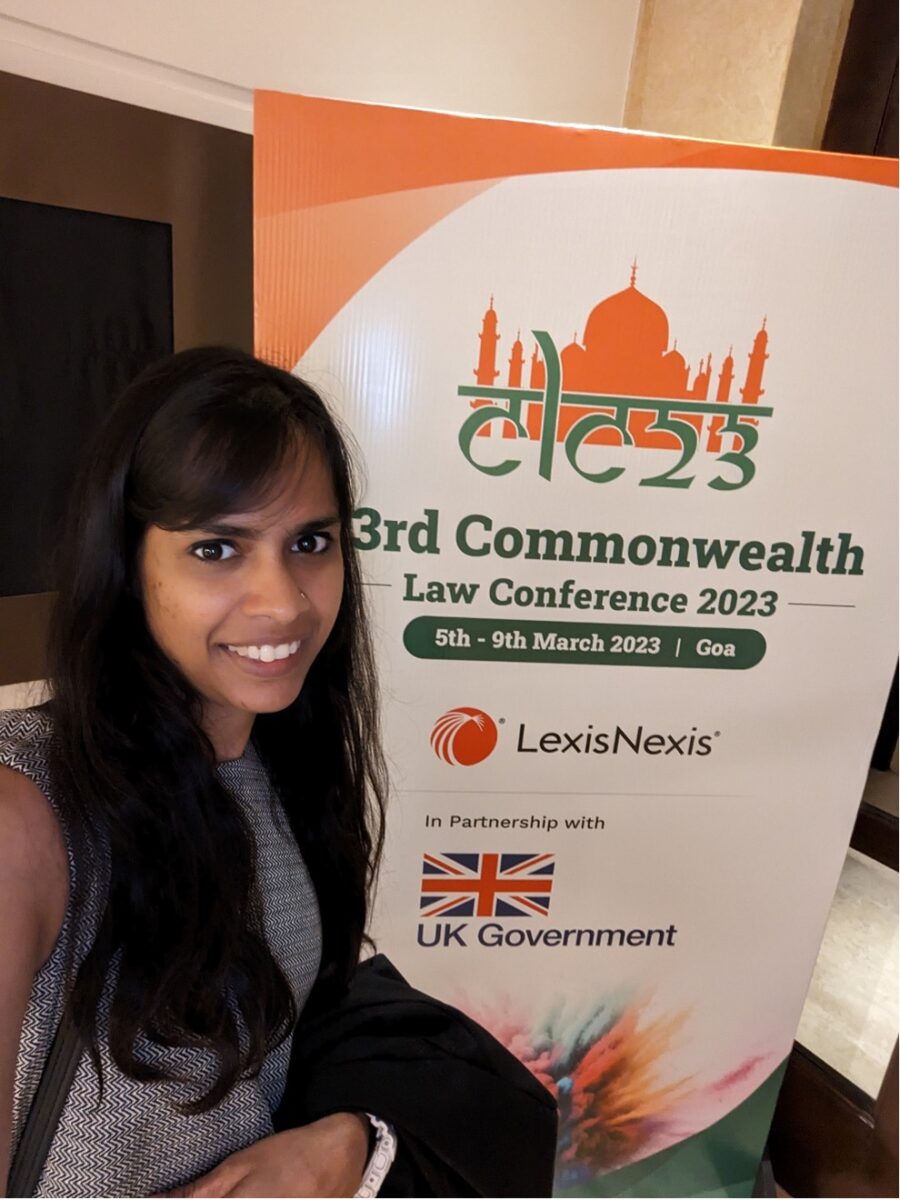 Ankita Yadav from the Commonwealth Chamber of Commerce at the Commonwealth Lawyers Conference 2023
Thanks to all the education, today I am a qualified lawyer in India and competent enough to fight for my rights and the cherry on top is that I get to represent the Commonwealth Chamber of Commerce under Julia Charlton, our chairperson. It is because of her I realised that talking to people and what the world calls "networking" is a cherishable skill. There is a world out there beyond my community which appreciates socialising, what else could I have wished for!
Previously, I have been provided so many opportunities to mingle at Commonwealth events like the Commonwealth Business Forum, the Commonwealth Women Forum and now this Commonwealth Law Conference. The Commonwealth in itself has been a life changing experience for me. It's enlightening, thrilling and most importantly the opinions, discussions and agendas it covers has always been in the list of my priorities.
​
The Commonwealth Law Conference is a major event in the legal calendar. It is held every two years and brings together legal professionals from across the Commonwealth. The conference covers a wide range of legal topics, including human rights, commercial law, family law, constitutional law, and environmental law, among others. This year at CLC2023 they included sports, AI, blockchain, and other emerging technologies in their keynote speeches and panel discussions with participation from leading legal experts, judges, and policymakers.
The Commonwealth Law Conference is organised by the Commonwealth Lawyers Association (CLA), which is a membership organisation representing lawyers and legal associations from across the Commonwealth. The CLA was established in 1983 and has grown to become a leading voice on legal issues affecting the Commonwealth. The conference not only provides a forum for the discussion of legal issues and developments, but also a great platform for networking and sharing best practices.
Being a technology lawyer, I wanted to cover all the discussions related to technology. But the only drawback of this event was all the related topics were covered in a single slot timing. For example, AI discussions were happening parallel to online media law. In the end, every topic was worth giving a try so like every other lawyer I skipped a few speeches and tried attending all the discussions I could.
During the conference, I was staying at the Taj Hotel and I had to commute to Grand Hyatt, Goa on a daily basis. Commuting gives more time to communicate with people. If you directly land up in a conference, you will have to figure out whom to talk to, but if you are commuting from a different place, you will always have company next to you to start a conversation!
Let me give you an example. On my first day going to the conference, I shared my cab with Mr. Salman A. Salman who is a Senior Special Assistant on Policy and Strategy to Yakubu Chonoko Maikyau, President of the Nigerian Bar Association. I never expected them to have such a warm and affectionate conversation with a young lawyer like me. Salman was surprised to know that I had visited Africa, Rwanda in particular, and the fact that I loved it so much that I keep boasting about it whenever I get a chance! It isn't anything like the place Google says it to be, it is quite safe for women and has evolved so much with all the developments and technology. I just think people need to write more about the positive aspects of it.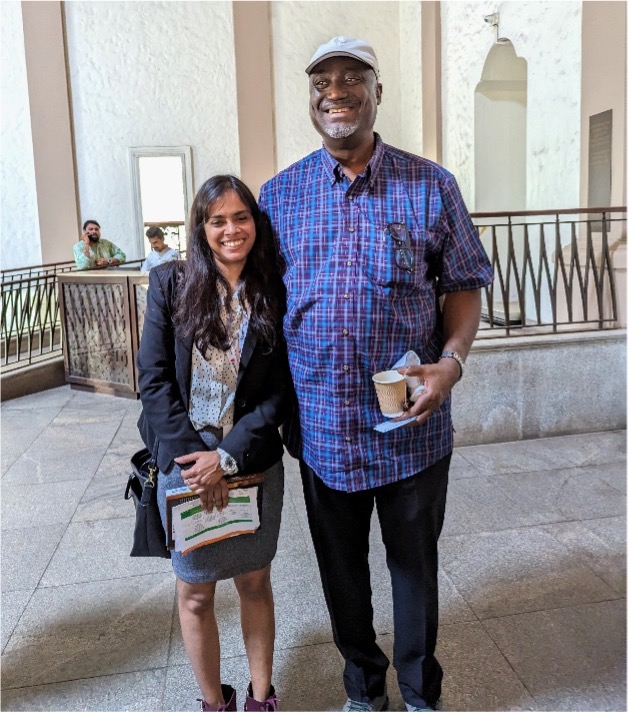 Brief conversation with Yakubu Chonoko Maikyau, President of the Nigerian Bar Association
The first day of the Conference was all about the young lawyers. They had great sessions about the cases of litigation in court and it was amazing to grasp the knowledge and sharing of all the experiences of young lawyers from all over the Commonwealth. The sessions were very interactive as they divided us all in small groups to discuss current issues and problems with one designated mentor. Our groups mentor was Brigid Watson, the Secretary General at the Commonwealth Lawyers Association. It was a mind opening and immensely knowledgeable session! The values and ideas exchanged will always remain a great part of my career and life.
By the end of the first evening I already knew lot of people from the Commonwealth. I met Kerry Clark who is a Barrister in Australia and her beautiful daughter who was here to explore the Indian culture. I had an interactive discussion with Francis-Xavier Sosu (Esq), who is a Member Of Parliament at the Parliament of Ghana here to speak about the Death Penalty issue across the Commonwealth. Later on, he also gifted me his signed book called "Guilty until Proven Innocent".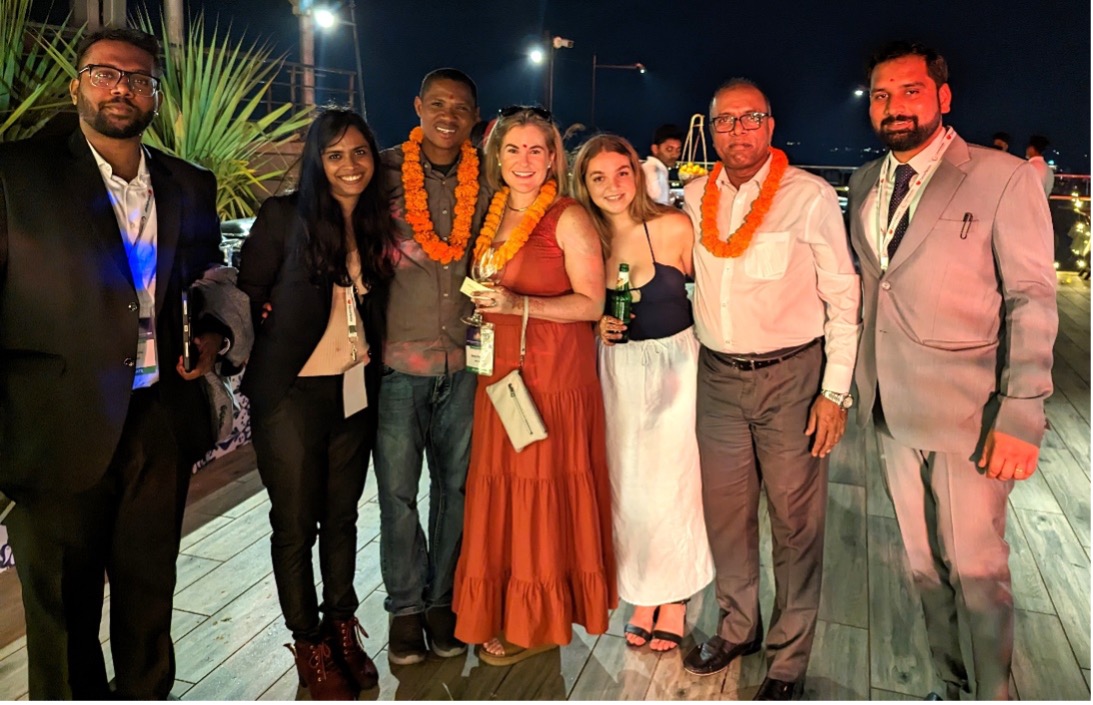 Dinner with delegates from Australia, India and Ghana
The second day was the Inaugural session of the Commonwealth Lawyers Conference. The Governor of Goa, P.S. Sreedharan Pillai, inaugurated the 23rd Commonwealth Law Conference, 2023. The event was attended by the Union Minister for Law and Justice, Kiren Rijiju, and the Chief Minister of Goa, Dr. Pramod Sawant.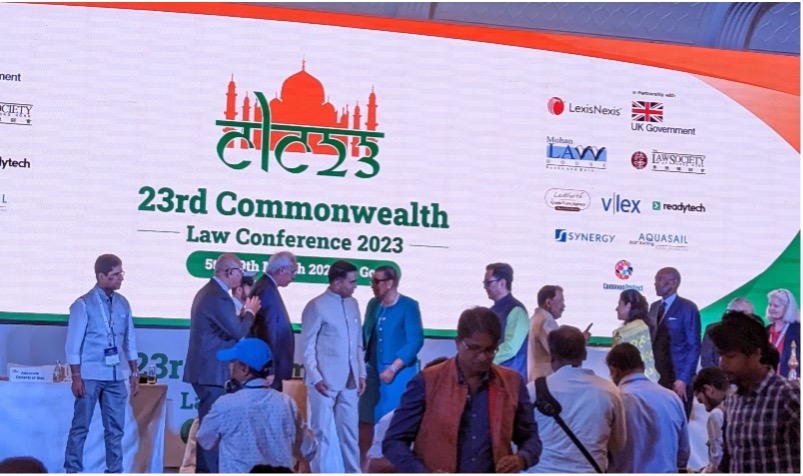 The Commonwealth Secretary-General, Rt Hon Patricia Scotland KC interacting after her speech
The Commonwealth Secretary-General, Rt Hon Patricia Scotland KC, was also present at the event and in her keynote speech she said: "As lawyers, we can change the world if we choose. We are jointly charged to deliver justice, particularly for the poor, the marginalised, the silenced and the vulnerable."
During the event the government highlighted the removal of 1486 laws from the statute book over the past 8 years which are outdated and antiquated laws. Additionally, he announced that the Union Ministry of Law and Justice intends to introduce a bill in the upcoming Parliament session in India to repeal 65 more obsolete laws and related provisions.
On Day 3, I had the opportunity to be the part of CLA Environmental and Climate Justice Committee, and discuss prevailing issues in the commonwealth. Fiona Ey, the coconvener, organized small talks with the delegates and share the work and aspirations of this recently convened Committee. We all committed to help each other and form a stronger networking group. In the near future we aim to address the social, economic, and environmental inequalities that contribute to and are exacerbated by climate change, and to create a more equitable and sustainable future for all.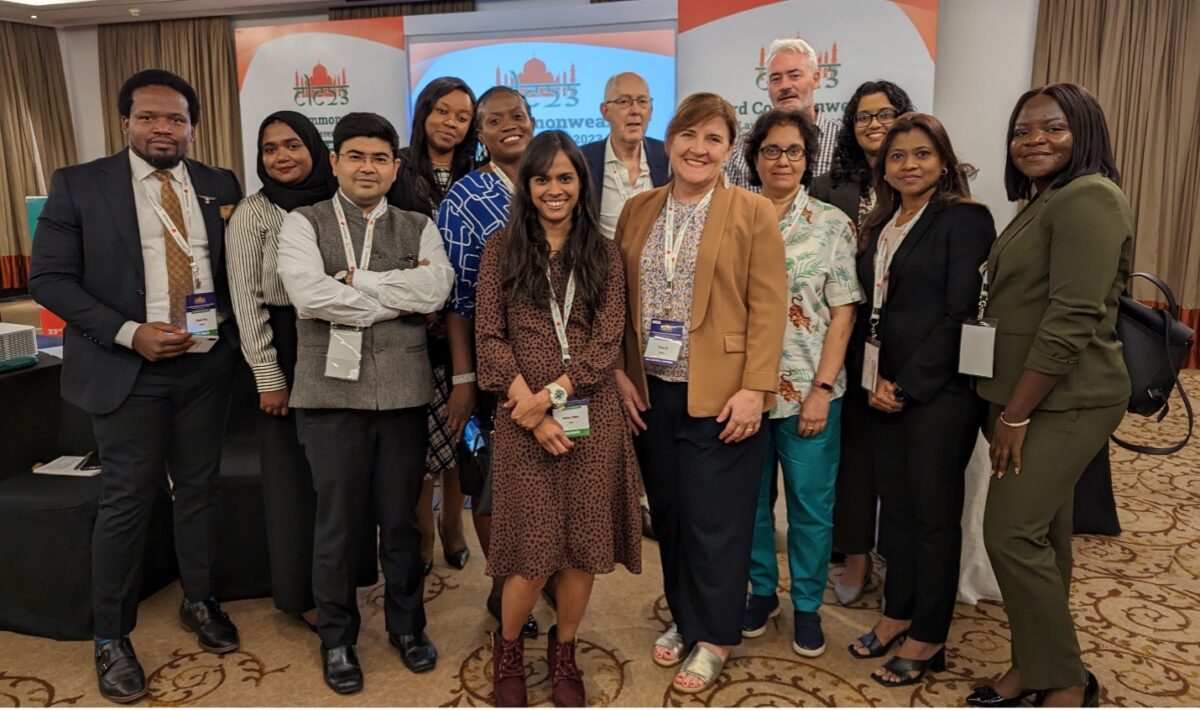 Uniting with Commonwealth Lawyers Association Environmental and Climate Justice Committee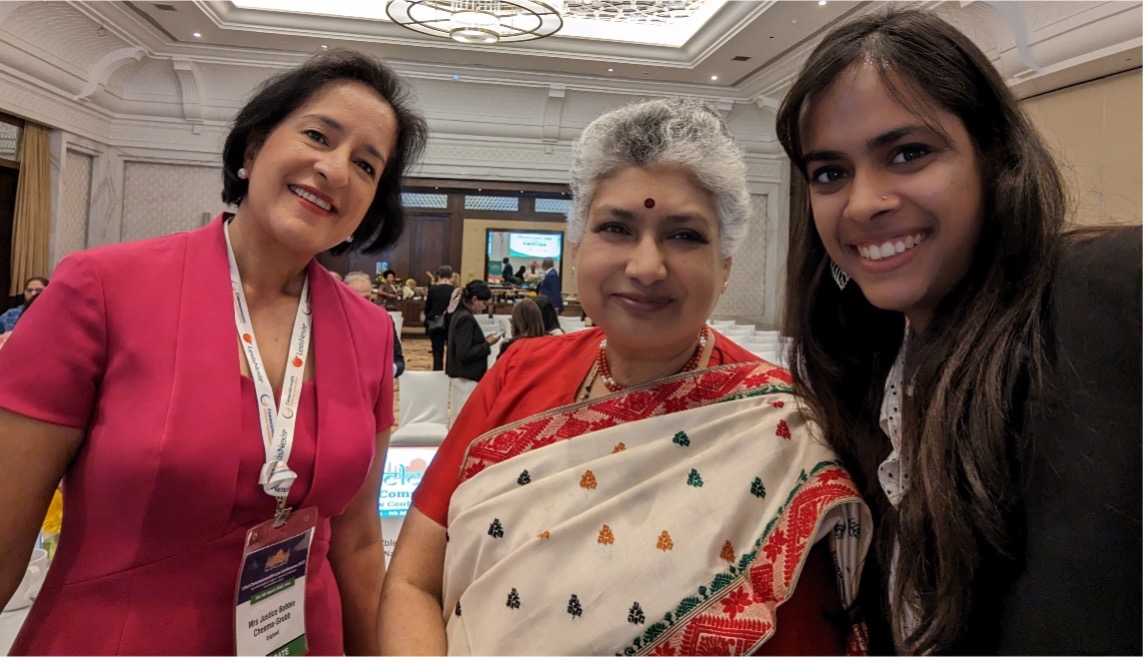 Celebrating Women's Day with speakers: Lubna Shuja, the first Asian, first Muslim and seventh female president of the Law Society of England and Wales and Mrs Justice B V Nagarathna, Chief Justice of India candidate for 2025 and the judge of Supreme Court of India
On the Day 4, International Women's Day celebration was the highlight, where they invited powerful women from all over the Commonwealth to gather and share their experiences and just get to know each other. We had speeches from Lubna Shuja, who is the first Asian, first Muslim and seventh female president of the Law Society of England and Wales. Mrs Justice B V Nagarathna, who is the Chief Justice of India candidate for 2025 and also the judge of Supreme Court of India also attended the event making it even more special!
On the same eve, they organized this Gala Dinner of CLC 2023. 8th of March was also the day when Indians celebrate Holi festival with colours and do party. Hence, the whole dinner was a grand celebration in itself combining various cultures and people together. It was a lifetime experience to celebrate this festival with various international delegates. I do not want to brag but now I am friends with great future lawyers from the Commonwealth like Justin Collins from Jamaica, Daniel Goldblatt and Adam Riley from UK, Geoffrey Yeung and Sharon Tam from Hong Kong, Eresha Weerasuriya and Inas Jinnah from Sri Lanka. I also have friends from the Indian law system like Mrinalini Sen Gupta and Manoj Gorkela who are already renowned names in India.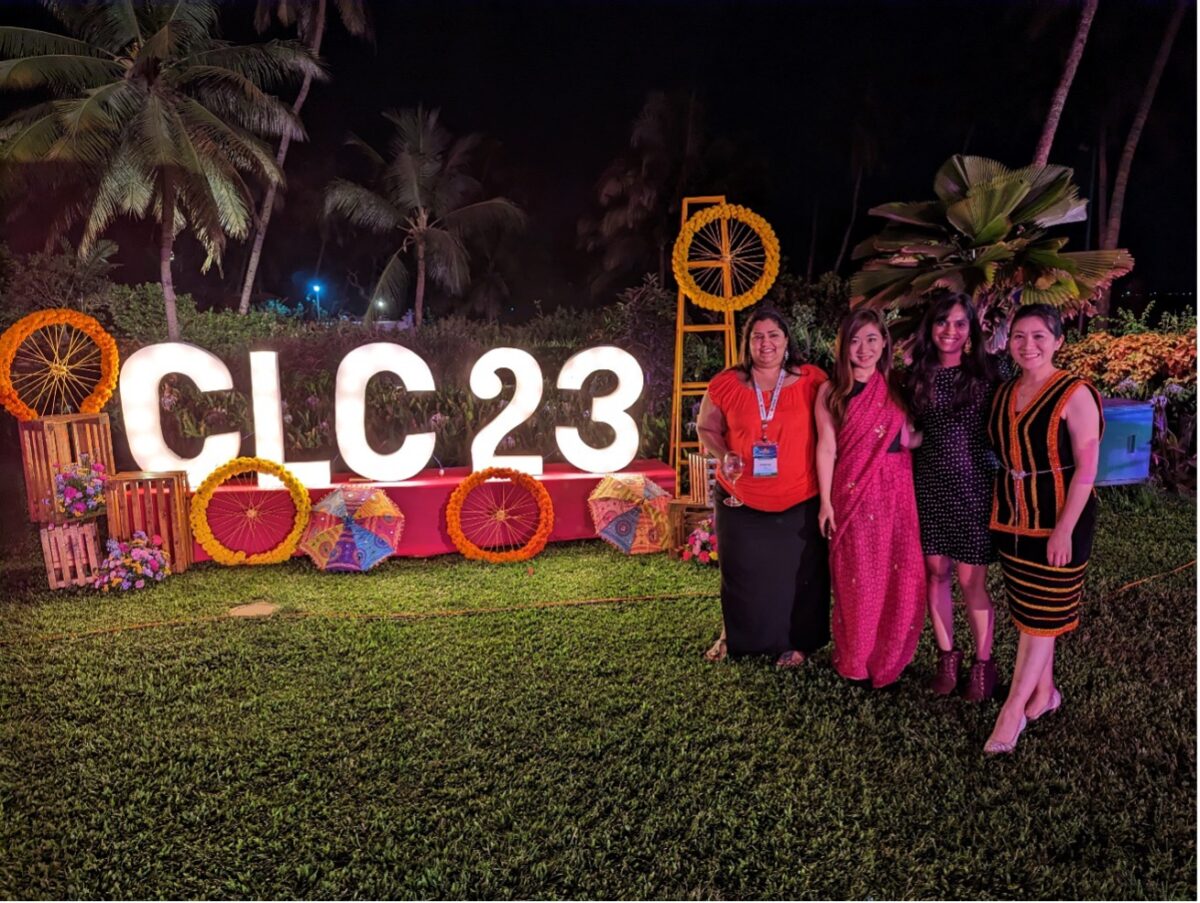 Gala Dinner and Holi celebration with delegates from India, Hong Kong and Malaysia
Day 5, ended with the traditional dance of Goa where Brian H Speers, the immediate past president of CLA welcomed Peter D. Maynard as a president. Winners from the Moot competition were awarded. Malta, the next venue of Commonwealth Law Conference was announced for 2025. The added highlight of the rest of the afternoon was Cricket Match between Commonwealth 11 vs Goa 11.
My key takeaway from the whole event was that you never know what you can find on any given day of your path. Opportunities like these help you understand your strengths and weaknesses when you are away from your comfort zone. Don't be afraid to introduce yourself and exchange contact information with others. All you need is to have a positive outlook towards it. In the usual course, you can keep doing what you are doing but sometimes it's good to have some fun, exchange knowledge and experiences and know the possibilities of the world that is moving beyond jurisdictional boundaries.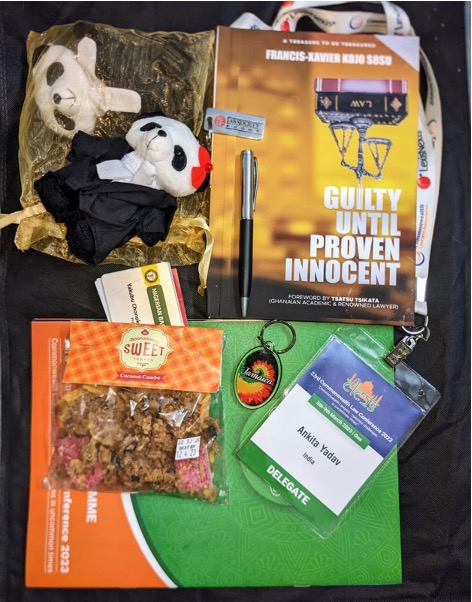 CLC2023 gifts and souvenirs
I wanted to take a moment to express my sincere gratitude to Brigid Watson, Clare Roe, Leah Almeida and Evie Wilson for giving lawyers such a great platform like CLC2023 to discuss and expand our perspectives. I would never forget Karen Cheah, Daniel Kip, David Denniston, Melinda Janki, Janet Othero and Manoj Gorkela for their informed, empathetic, and engaging conversations. I am also delighted to receive such thoughtful gifts from Donovan Walker, Justin Collins, Francis-Xavier Sosu and Sharon Tam and they have truly added a special touch to my collection. They are a wonderful reminder of the great time we had together and the connections we made during the event.